April 10, 2017
So the slide-show has premiered to a miniature audience, yet with very positive feed-back and the show must go on. Starfish reportedly completed his sex-change and is now a full man and the president of the United States is bombing Syria. The show must go on.
Shortly before WWIII (this may be one day referred to as "pre-war-work", although I HOPE NOT) I am promoting the slide-show at other venues, basically whoever seems open to more screenings, bringing up some questions regarding soundtrack.
Nan Goldin famously so showed her slide-show for the first time in 1979 with a soundtrack compiled of songs by various more or less famous rock bands, some indie, some not so indie.
Aperture Foundation who also published "The Ballad of Sexual Dependency" in book form a year after the slide show premiere in 1988  http://aperture.org/shop/nan-goldin-ballad/ and further: "on the occasion of the third printing of Nan Goldin's Ballad of Sexual Dependency we have assembled a YouTube playlist based on Goldin's original slideshow soundtrack"
which you can (partially) listen to here:
Soundtrack to Nan Goldin's "Ballad of the Sexual Dependency" 
So far if you happen to attempt listening in USA, omitted from the playlist are currently:
Yoko Ono's "She Hits Back",
Charlotte Rae's version of Petula Clark's "Downtown", 
Maria Callas "Casta diva" (1958) by Vincenzo Bellini "Norma" (1831),
and a not listed song by "The Velvet Underground" stating: "The YouTube account associated with this video has been terminated due to multiple third-party notifications of copyright infringement".
The remaining seven songs you can currently still listen to through this link anyways, probably if you go to a live show all of them, I would assume.
Exactly my question: how about Nan Goldin and the songs she picked to play during her live slide shows? Did she buy rights over each one of them? Is there any conflict? Did it not apply in 1985 when she premiered the slide show? Maybe lesser so that today in 2017.
There actually is an APERTURE article by Greil Marcus to the soundtrack topic "Songs left Out of Nan Goldin's Ballad of Sexual Dependency" , but it doesn't address the question of how does an emerging artist go about using well-known pop/rock/whatever music he or she wants to combine with work made as soundtrack. Is it even a good idea, besides the legality of it, in terms of creativity?
Sometimes I am tempted to think that Nan Goldin is not the talented genius people market her as, but her one notable work, "The Ballad" seems to be famous for other reasons, one of them it is a documentary easily emotionally accessibly "as if one was right there" for "those who had not been there", one of the various magic tricks photography is able to do. In her case, like certain autobiographies, it applies to people who are never anywhere really themselves, paying the price for going, but would love to be on a weekend vacation, in and out and free entrance. The point is, a certain life style does not just plunge onto you overnight or because one hopped the wrong train, but like an apprenticeship you start out as the one who sweeps the studio and then you watch for a while before the master allows you to touch any tools. Years later you get to keep your pots. It's not a powder in a tiny paper-bag you rip open and mix into a glass of water and microwave the whole thing. And people who do other things with thier lives (cleaner and more profitable ones I assume) that probably underlie exactly the same rules there, too, they do not realize that. Personally I would never want to be a CEO of a corporation for a day, so the temptation of collecting pictures of high positioned executives in their office is low, practically zero.
I see occasionally Nan Goldin's attempts at fashion photography, and the recipe "take one or more skinny depressed looking young people and drape them casually in a dark scruffy apartment interior, ideally involving a cheap old-fashioned sofa in rust-red velvet", and realize that doesn't work. Not a single time, no matter how fluffy the model's hair is and how long their legs are and how terribly bored they look, and Nan Goldin says in interviews that she is not interested in the work and shooting models.
https://fraenkelgallery.com/videos/an-evening-with-nan-goldin-and-vince-aletti-remembering-peter-hujar (scroll to 8:26 min)
The question which was proposed to her by more famous people than myself, apparently Peter Hujar at one occasion, why she is doing it then in the first place, has not been publicly answered so I am left to conclusions. If it is her idea of "money has to be made somehow" that makes a lot of sense, but personally I would never water down my own work "meeting somewhere in the middle", because the few occasions I tried the works was equally ridiculous and and far from what I normally do and the wage for it wasn't worth the prostitution. Those commissions I can be proud of (so I list them on my CV) were paid with peanuts by people who also followed a personal vision and consequently had not figured out how to make money at their own lifetime with that.
Gladly Nan Goldin's failure in fashion photography makes me realize, the beauty of life can not be rented "instant just add water" from modelling agencies, but only earned through life experience; the same question applies of course sound as much as to images.
I shot a short video (not frame-by-frame animation as most of my animated films) of "Billy's Funeral" and the sound track is a version of Franz Schubert's "Ave Maria, D. 839, Op. 52, No. 6" (1825); the sound is what we were playing during the funeral, which precisely is: a cover by Mirusia Louwerse /André Rieu; but obviously because posting art or whatever online counts legally as a form of exhibition there is a copyright question and as a result of this specific music I picked the clip will now come with odd subtitled advertisements, which in this case is fine by me, the irony matches perfectly with Billy's fate.
However, for future exhibitions I realize for several reasons I will need to change the sound for something more authentic, one being because canned music is crap, bluntly put.
Currently I am using in my own slide-show the famous Janis Joplin cover of "Little Girl Blue" (1969), originally published 1935, written by Lorenz Hart and composed by Richard Rodgers; here is the long list of covers as known to Wikipedia: "Little Girl Blue"
I did send an inquiry to SONY, who hold a 1999 copyright over the version I am currently using, through their site one can request, but so far no reply, time will tell.
I certainly would also heavily object if anyone downloads my stuff and uses it for their own art whatsoever without asking my permission first, in particular in case of a world famous artist, which Nan Goldin only became over time. But on the other hand that leaves me in the situation that because of the copyright law I have to either use only self created sound or work made by friends.  I admit, being a fan of fire of Czech composer Zdeněk Liška (who collaborated up to his death in 1983 with Jan Švankmajer doing the sound for his early short films), it is nicer to go the 100 extra steps and create your own fabulous soundtrack from scratch, which is anyways the route I am planning to take most of the time, time being exactly the issue that stands in the way of doing so.
But besides time and situations when one needs something fast, is it possible to communicate the same emotional reaction with abstracted sound as a traditional music piece well known on to a wider audience inclusive its attached history can cause? Sometimes I think at this point in time I might like the emotional meaning a certain more well known song took on within a certain culture.
* Some people seem to not be able to get into the chemistry of Liška sound with Švankmajer image, deleting the sound adding their own corny garage band sound with it and post it back on various social media sharing platforms (making me cringe every time).
Interesting enough, Jan Švankmajer could not find a replacement for Liška and is now using classical music for his films, but technically the copyright discussion comes up all over again, assuming he is using the sound from orchestra recordings of some kind or another.
An interview to the question is here: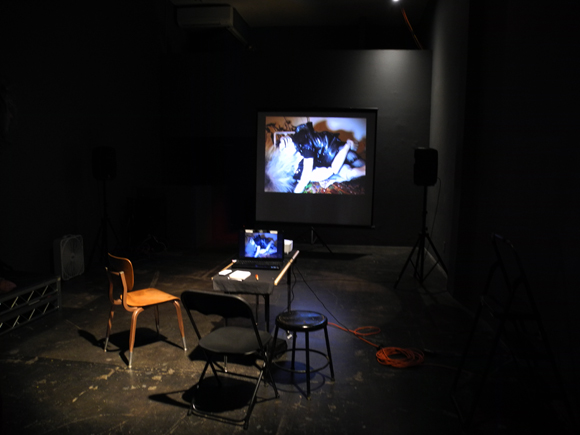 Josiane Keller "preparing slide-show at AUTOMATA" (2017)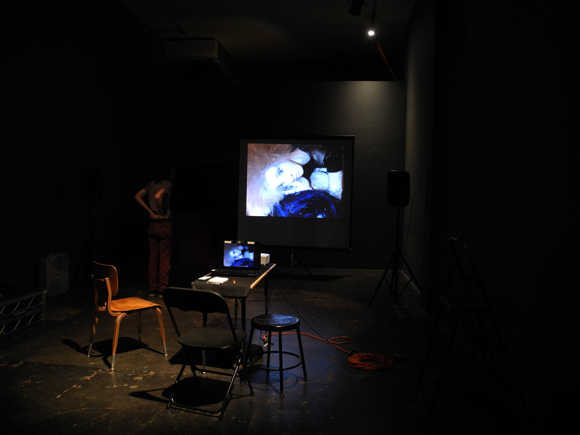 Josiane Keller "preparing slide-show at AUTOMATA, LA, 2" (2017)
And whilst we are in the mood, here another interview with:
PS: I can already hear the complaints on this post, that yes, the part about Nan Goldin is very interesting and the part about sound is, and the one about Švankmajer/Liška, but they do not belong together. Oh man…