April 15, 2015
Today, in fact yesterday should have been, and today will be, I hope, cherub-making-day. Fifteen of them. Ironically so, in German language it would translate to "Engelmachertag", and that would apply to a woman or sometimes it could be men as well, who provide abortions, in times when this practice was neither legal nor openly discussed, yet with some luck you would still be better off than trying to work it out yourself with a coat-hanger or downing yourself in the village creek.
Paula Rego made a fantastic series of etchings to the topic.
Anyways, coat-hanger-days are gone, thank God, at least where I hang out, and so I am not an "Engelmacherin" but instead I am literally shaping these still missing fifteen cherubs for the Foujita-inspired black Madonna.
By chance I came across yet another wild attempt to use German language marketing Fine Art in ways that not only make no sense anymore, that also are grammatically at least very eccentric or let's be brutal and say it: plain wrong, but that may or should (?) sound  to some people educated, because slightly or altogether not any longer understandable.
I don't know of any more bourgeois way of behavior, and yet it seems so popular. Does it improve marketability of art work? If so, to whom? Dangerous questions, yet again. My specialty.
Marketing language use in Fine Arts, what it does and why it is done, I ill never get over the topic. Actually, it's cracking me up. Oops. Can I say that, and still sell my work in respectable galleries? I am actually not sure at all. I hope so, but I am not sure.
I am actually beginning to wonder if that is a new trend, since now the main art marketing language is English and many words are somewhat fabricated from what it could sound like (but doesn't) in English, or if that was always that way? For instance in the past when people would use French as secondary language much more, or even older days Latin, and there were once people trying to sell a sinfully expensive painting, wiggling around in mock-Latin and being incredibly impressive (or maybe not?) Come to think of it, probably it was always that way.
But the good thing in it, irrelevant of all other bits and bobs involved, is that I had a look at a certain painting by Camille Corot (1796 – 1875) who was in this specific article mentioned as someone doing mono-chromatic paintings. This startled me, but I don't want to claim that I have seen every single painting of Corot, so I checked (and I STILL have not seen every single painting by Corot, don't misunderstand what I am saying!)
I think, there is a difference between monochromatic and nearly monochromatic. Maybe the difference is not so big regarding colour use, but very big in terms of what it would mean in art history when someone for the first time creates a truly monochromatic painting (outside a drawing or coloured work sketch) and calls it a finished piece without being called clinically insane, colour blind or extremely lazy.
Anyways, maybe let's leave the pitfalls of language aside for a moment and look at the paintings, you can see many of them on this site, unfortunately they plastered their logo all over it, although the copyright should be with the estate of the painter, one could assume, and someone seemingly thought Corot's paintings alone are not interesting enough for visitors of this site, so he or she created a slide-show with goofy and highly distracting effects, but anyways you can see many of his paintings here (they claim "his complete works", who knows). Start at the end, this is where Corot is working with less colour, trying new things:
http://www.jean-baptiste-camille-corot.org/
To discuss the topic mono-chromatic, or almost monochromatic I picked this one, (NOT from this particular site, no worries, and anyways it is Corot's painting, by all means):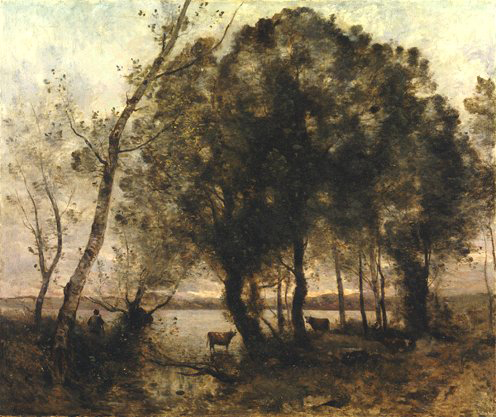 Camille Corot "the lake" (1861)
And to check the situation of colour I made a series you can compare with very enhanced colour-hues (which looks incredibly tacky, but definitely shows that they are actually there, and different ones on top of that) and less of them to none, the top one is the original, give or take some slight alterations based on photographic reproduction of a painting and the settings of the computer you are look at:

Camille Corot "the lake", hue range (1861/2015)
Pretty interesting, anyways, isn't it?
If it was mine I would do something like this: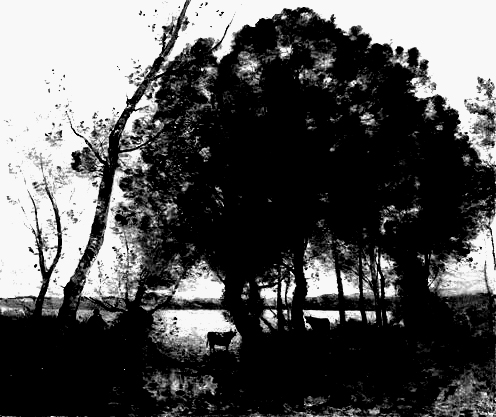 Camaille Corot "the lake" (1861), bw high contrast
in photography, that is, maybe not in painting.
Anyways, colour and online reproduction. I like this one for specific reasons, but I have never seen the real thing and it turns out to be in a private collection (may the owner please confirm which one is the real or more real colour?) Seemingly we have a late summer and we have also a spring version: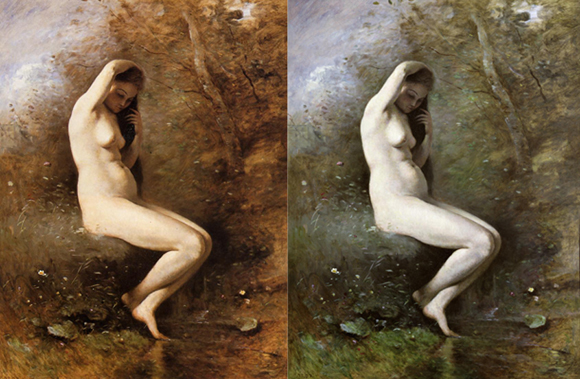 Camille Corot "Venus bathing", version I and II (1873-74)
and then if it was mine I would do something like this: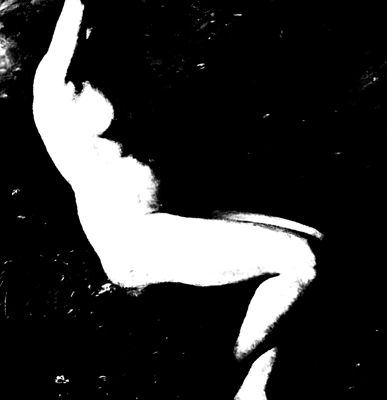 Josiane Keller/Camille Corot "Venus bathing IIII" (1873, 2015)
But, see discussion above, if Corot had done that, people possibly including himself would have thought he was drunk, crazy or this is only a sketch for a nice colour oil painting he is gonna make later on from it.
Anyways, now it is time to make some cherubs for the Foujita Madonna.