October 22, 2014
This morning I received this e-mail and matching with the subject I first thought it is spam, then learning there is indeed a lady working for the LA times with that name, I thought maybe someone pretending to be her and trying God knows what joke next, but no, it was really the lady herself (who seems to start work VERY early in the morning!):
" Message Body:
Hi Josiane: My name is Carolina and I'm a staff writer at the LA Times. I'm doing a story about the whole World Wide Art Fair thing and saw your post. Any chance you could tell me when they invited you to be in the fair? I'm trying to get some sense of chronology on when they did what. (Since a good fair involves lots of advance planning.)
My cell is [xyz] and my email address is [abc] I'm on deadline for this morning.
Thanks!
Carolina "

So I made it simple and called her back and she is really writing about this "World Wide Art Fair" I had received an "invitation" for, if you wanted to say so, last October and had written in a post about it all (something about 'art spam'). I forwarded her all the info I have nicely saved in an e-mail folder called "art spam shite".
This is the article she (or rather Catherine Wagley in this case)  wrote on it so far, I was amazed to learn that this "art fair" apparently even took place, I thought they would only take the money and run:
http://www.laweekly.com/publicspectacle/2014/10/21/hardly-anyone-showed-up-at-this-la-art-fair-was-it-ineptness-or-a-scam
I am not surprised.
And further whilst listening to many Grayson Perry interviews, I created the next small prostitute, which is wearing a clochet, and just for the heck of it I am presenting her here drying in my studio as an inverted picture just to see what that looks like:
Josiane Keller "small prostitute with a clochet" (2014)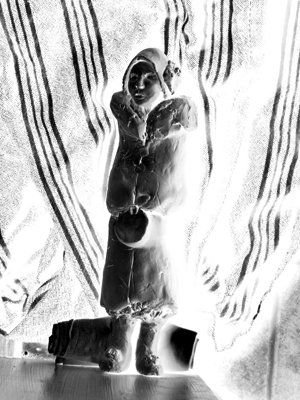 Josiane Keller "small prostitute with a clochet 2″ (2014)
oh… and a VERY exhausted Mungo right here:
Josiane Keller "Mungo and Deputy Madame at Suzy's" (2014)