April 30, 2014
Full of pride I sent my friend a link to one of my favorite pictures – of him, expecting the only the best.
Instead he wrote me back he found it a very good photograph in artistic terms with a wonderfully surreal atmosphere, but little did I know he does not like his face, and that means he REALLY does not like his face, at all, and that has been the case from early childhood on, it's his thing so to speak, and so he hoped I had not shown it to anyone and he really wishes I would take it down.
Oh dear. Well. We are not talking just somebody I caught in a crowd out on the street. This is about a good friend of mine and a picture I took as a portrait of him in a Cafe (as I tend to take so many pictures in Cafe's all over the world).
Well, I told him his face looks completely normal, by "normal" I mean of course interesting enough that it can be substance of an excellent shot or many more, of only he would let me, and that the picture also represents him in the way I see him, a very talented, deep and interesting artist, the perfect portrait. And what if every one would come up and complain about not looking perfectly in this and the other shot and demanding to take it down? Oh dear!!! (Do you need model release forms for street photography? I thought so far NO… ?*)
But of course, in this case if he wants it down he wants it down and there is no way to make more of a debate of it. Too bad!!!
I grief over this shot, that's for sure.
And of course his feelings about it being what they are I can't show it to you, nor can I show which one I replaced it with, as it would give him away and I conclude he might not like that either.
And so, once again, I had to come up with a replacement picture. Perhaps this is a typical case? People who hate how they look like and do not want their picture taken at all? (Honestly, I know the man since years, I had no idea he felt that way and I promise you, there is nothing abut his face that indicates he might think that way, had he not told me now!)
That would be another interesting figure project: "people who hate their picture taken because they feel they look odd in some ways".
And by looking through my folders I came across another photograph I had not even looked at, although it perfectly represents my lost friend, the one about the film "I anyways live until I die" is, in his shop, cooking for all the lost souls with empty stomach around him, and little did I know at the time it would be the last time I would take such a photograph of him doing that, which is why I titled it "last time" and put it at the end of the Japan 2011 album, although it was taken considering a time line, at the beginning of that stay then. But memory works that way: when something important is passed we realized it was the last time, but it is over already: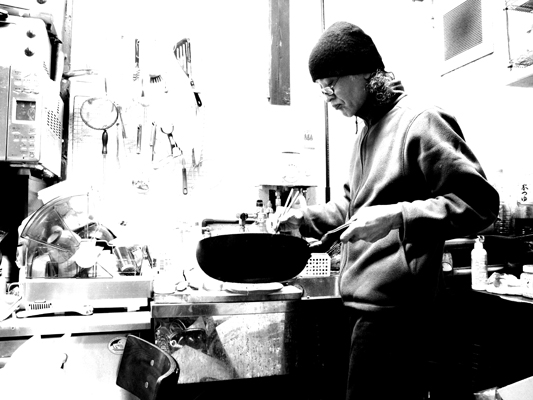 Josiane Keller "最後の – saigo no" (2010)
As for last night's throwing of a planet on the pottery-wheel, as it turned out my clay was despite initial checking way too hard and I had first work it and then went to bed being late, so we will see what happens tonight!
Meanwhile you may (or may not) be eagerly awaiting the images of the making of "The Planets" watch this interesting clip by Sun Hee Engelstoft on Danish Photographer Jacob Aue Sobol shooting pictures from his project from 2012: "Arrivals and Departures" from Moscow to Beijing:
https://www.youtube.com/watch?v=WR0q2ohjFn4
*Generally from what I found out about this topic so far, I need NO model release form (that means agreement) of any model in street photography or taken on public places, that is used as Art Photography or Photojournalism as opposed to for commercial use, which would be for instance within advertising or on stationary or coffee-mugs etc.
Still… I can hardly whack "my legal right" into my friend's face if he asks me not to show this picture. Ahhh, too bad! What a wonderful photograph the world will never ever get to enjoy! Oh well.