March 6, 2014
Artists Olafur Eliasson http://www.olafureliasson.net/exhibitions/your_emotional_future.html
and Ai WeiWei http://aiweiwei.com/
were combined despite physical distance in intellectual harmony by curator Marcello Pisu http://marcellopisu.com/
in the interactive virtual project MOONMOONMOONMOON.com
What it says it wants is this:
"The instant a touch is made, things are set in motion. Make a drawing to reach out and be touched. Drawing together we are drawn together. This is how we make a difference in the world, on micro and macro levels, individually and collectively. Touch the moon by drawing on it – a vision, doodle, statement, a greeting, thought. . . your drawing is a hinge between you, everyone else, and the universe.
By connecting in spaces for imagination – by determining what to share and how to share it – we can create a greater outcome. Through messages and non-verbal communication, in a language unique to each person, the collective work becomes a testament to personal freedom, creativity, and activity.
Celebrate with us the gathering of creative powers from around the globe to mark the passage from nothing to something and from thinking into doing. Savour this moment of transformation. Leave your fingerprint and see the shared moon grow as others reach out too. Let's show the world that together our marks matter. Creativity defies boundaries.
Ideas, wind, and air no one can stop.
Ai Weiwei and Olafur Eliasson"
We have a black and white design of a more or less (more less than more thanks to crappy perspective) assumed ball-shaped white circle. With some imagination and support of association from the title we conclude: Aha! There it sis: the moon!" It rotates. Have you ever come across these opening pages of some children book illustrators or designers with Martha Stewart-taste who think it makes their stuff look somehow better if it is difficult to enter the website by having little creatures fly all over the opening page, and you have to chase them and click on the, but they move away when you come near them? So this imaginary "moon" moves like that.
And now: doodle everybody! Spread the wisdom!
But wait, not so fast. To hail world piece and the irrepressible freedom of mind ('mind' being marketed as = intelligence. which is my first complaint, not everybody who has a more or less functioning mind is blessed with intelligence, and freedom, another association with everything where Ai WeiWei has something to do with) first you have to set up an account.
Yes, there will be cookies. That collect not only data of what wisdom you spread on this imaginary moon. The cookies, as cookies do will collect data from everything you look at online.
This is in my European eyes the OPPOSITE of freedom of mind and I would not be at all surprised if this project has stocks and Mr. Zuckerberg owns plenty of them.
However, let's for one moment not concentrate on the ridiculous and scary irony of how this project is being marketed and what it is reality does.
Let's play a good sport and participate. Now let's have a look what the suppressed intelligence of people all over the world has to secretly lure through a hole in evil intelligence suppression, so we can anyways read it at any time and anywhere… Gosh, I feel just like Lady Marian climbing in disguise over the castle walls and galloping towards Sherwood Forest, fighting evil suppression with the pure outcast brotherhood.
Let's see… so here is one: "I loved you from the moment we met.", "FREE SYRIA" is another. "Hanni", "I have a ping [possibly it reads 'Ding'] of 6co [possibly reads '600'] in cs:s" 
I give you a short break to meditate on that for a while before we continue.
There are doodles, some cryptic. "I want to be like you." , a link address to a site in Chile, which is against the rules btw, but finally here some real wisdom, as far as one can expect it from a project like this:
"COLLECTIVE EXODUS INTO THE BOREDOM OF A TOILETWALL: selfXPRESSION IS OUR next to last CURRENCY A DOG'S PISS MARK LOL"
What do we learn from looking at this project? Once again, being an artist requires a fundamental training, when looking at contemporary art in philosophy. Same as in any other profession you better get a decent training. I admit there are here and there people who anyways think that way without having gone through the official training, although if you did a little deeper in such cases you will probably usually find out that these people are reading three books on philosophy in a week and have done so since they are about ten years old or in other ways have educated themselves or were raised in an artist household or God knows what plenty of exposure they had.
And I also admit even with training the outcome varies and there is not guarantee just because you have two degrees in conceptual art you are able to make mind-boggling work.
But having said all this, please, not everyone is an artist and not everyone is able to give off something what is en enrichment to mankind if accumulated on a website, besides the fact that apart from visual design the moon-project is doing nothing else from what any other social network does, see above, I assume you can purchase stocks on it for exactly that reason, data collection is valuable to some.
FAZIT: I am definitely disappointed, as I had hoped for something really cool coming out of this collaboration, and this is total bullshit and please reconsider and do better next time, guys!

I so far really liked Ei WeiWei's work (sunflower seeds!), same as the rest of the world, and am a bit unsure if I like Olafur Eliasson's work (sunsets?), but this moon thing I do not like although it is very ironic for many reasons and that bit is perhaps interesting.
Back to real good art, here one more wonderful photograph of Daido Moriyama (because one can never see enough Daido Moriyama photographs!):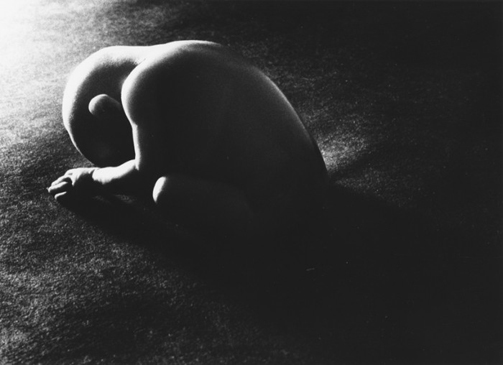 Daido Moriyama "Hatano-Kanagawa" (1964)
Back to the herd of horses. I finished one clip last night, which was crazy. I am using the Sallies, and it is hard enough to get them going to make it looks we have a 16 horses galloping in a rectangle. For this clip, which is part of "I anyways live until I die" I am trying to create the illusion of a random amount of horses a galloping in a herd; initially four, and then two come later (yes yes, always them slow ones in the end…!), I probably will need to make more footage today, trying perhaps another angle. Anyways, so four randomly galloping horse, trying to overtake each other and what else horses might do running across a field, that requires a great deal of counting, if it is not real actual horses but figures from clay.
I should give you some pictures as illustration of what I am taking about, I guess:

 Josiane Keller "herd of horses running – test pics" (2014)
I might need to fiddle a bit on the contrast, but so much as a peek picture. 
* thirteen hours later I realize I need to re-do the footage, although the horses were great the light was impossible (not enough contrast no matter what) and I need to come up with better light, or a dark background or black horses or …..         ?
Terribly annoying, but I try my best to tell myself I need to put it down to experience and it is certainly not the first time.
Meanwhile I came across a video by Chinese media artist Nan Wang currently based in Rotterdam where she studied on the MA Media Design and Communication course at the Piet Zwart Institue, Rotterdam, Holland;
the film is called DUST POETRY, and it is a funny coincidence that there are some parallels to the MOON project, visually, and then to imagine all the tiny little dust specs are more or less brainless comments by bored people playing on the internet, does that contribute or take a way from the very poetic and beautiful piece?
here is the link to her site: http://nanwang.org/