March 20, 2015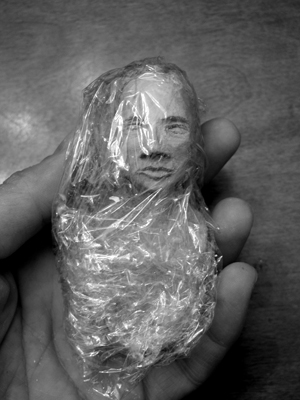 Josiane Keller "new figure" (2015)
Finally, I am working on a new figure. (How fun! – No irony, btw. The figure-making, when I get to it, is incredibly enjoyable.) So far it doesn't look like much, but I admit I have a fortune cookie wisdom on my laptop sticking that reads "Begin… the rest is easy."  That should tell you all there is to know…
I spent a lot of time as I placed an ad in a certain photography magazine and… they messed it up. How, do not even ask. So after a lot of flipping and fighting I get a new ad, which will be a little odd, one weird one and one hopefully nice one, this time. This is where for example the Dutch designer Gerrit Noordzij's could be most helpful.
Anyways, now I will write about "the male gaze". Unless you are refurnishing a strip-club, a most peculiar topic, if you ask me. But I am no man. And that is EXACTLY THE POINT.
(Here, I will make a "point", right here, look:     •    That is a point, see? Fine, I stop goofing around and will try to explain…)
Recently I had a tiny review written about my work, the person writing it, God bless, was specifically interested in the "Haifischflossen"-album. His original text had a headline that read: work on "women's issues, and the male gaze" and as explanation he stated, 'feminist theory being a main interest of his' and further "the inclusion of provocative and distorted semi-nude hand-made models definitely strikes that chord for me."
He further explained the part of my artist statement had lead him to this:
"A project on 'women' as well as 'photographs of women', dealing with clichés and facts on both.
I am interested in the questions:
- why are we taking photographs of women?
- what is the difference of men taking photographs of women versus women taking photographs of women?"
Stop right there. Go back to "perspective" and "stand point". Start again. Drive the opposite direction.
Why can't it be about my gaze?
I can see why he would think so. But then again, if my work should be about "the male gaze" then one could also say, since I went a few years ago doing my duty and went to the Louvre staring at the "Mona Lisa", the "Mona Lisa" is about "the gaze of Josiane Keller". There, I am staring right at her, it must be about my gaze, right? I have been staring since minutes now.
I am not sure, (how could anyone be sure of anything, anyways?), but I assume it is not.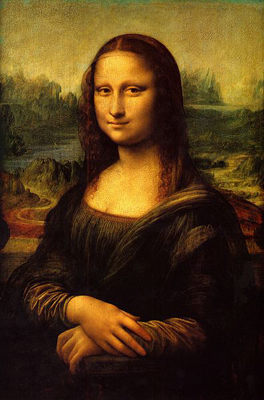 Leonardo da Vinci "Mona Lisa" (1503/1505)
It certainly is about Leonardo da Vinci's gaze, that I think would be safe to assume. And famously so, in this particular case, the painting is also about the model's gaze (Lisa del Giocondo), since the model somewhat looks back at the artist and makes eye-contact. Eye-contact to some is interpreted as an invitation or even a provocation, for example silver-back gorillas are said to have this reaction. (That was mean, I totally admit it. Sorry. But I don't take it back.)
Let's make one thing clear: I am most grateful to anyone, who is interested in my work, and I am very happy, if they find it triggers any of their own interests, and I even more grateful to anyone who is willing to even write about my work! Absolutely and how wonderful!!! But I would really like it very much, if people who write about other people's work do keep in mind, that they can't possibly "just know" what it is about and for that reason I would go the easy route and please make the effort and ask the artist, instead of assuming, even if you are very sure you still might get it wrong after all.
There are people out there publishing "interviews", what they understand by that is they write some text up that reads very beautifully and elegant, questions by the interviewer, answer by the artist, they almost include description of little laughs and gestures. Then they send it to the artist for an "OK" one night prior to publication.
I am not joking, that really happened to me, and since then I am very suspicious of "interviews" with artists published anywhere really, that read so very nice and elegantly.
It is extremely bad journalism and I honestly do not understand why in the field of fine arts the rules should be any different from other journalism. All their lives long artists, or at least me, spend so much time effort and money to clarify what they are really thinking, over and over again, re-thinking, re-evaluation and finding good ways to communicate that visually. And all of a sudden, just because one was lucky enough to get a review somewhere, one is supposed to be so endlessly grateful that all that should not matter anymore, and one is happy to throw it all overboard only to give the reviewer's ego a chance to write about whatever he anyways wanted to write about, no matter if it actually applies or not?
I care very much about in what context my work is being represented, because it is a lot about context and lesser so about pretty pictures, in fact the problem is: I am trying to communicate a certain context in images. Of course then that is a form of abstraction, and that can be interpreted or mis-interpreted, and that leaves space for misunderstandings. But if you take my intentions away and use my work to communicate something what I had not in mind saying through it, which is easily done in i.e. an article, then you practically hijacked my work. I am awfully sorry, but as far as I am able to stop such bad art-journalism if it applies to my work, I will do that. If you have no interest in what my work is about then do not feature it.
If you have an interest in making an "interview" with me then PLEASE ask me, I am happy to answer truthfully to all your questions, which you are happy to publish; PLEASE do not override what I say. No matter how badly you wish to write about this or that other topic that interests you and you thought it could fit with it, but ultimately doesn't. If the urge to express your own issues is so pressing, please have the guts and become a free-lance writer, where you can write about whatever you please.
Instead of bickering, let's try another one, (I am really not here to insult people, but I am trying to explain something.) So for example Ingres is always big on eye-contact: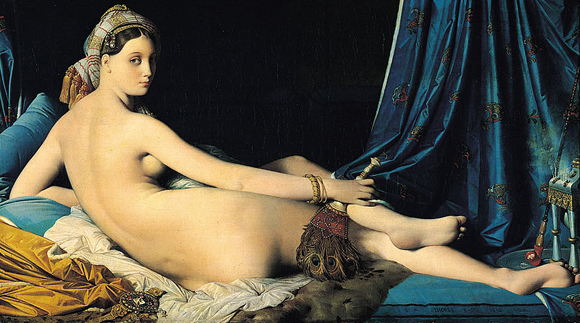 Jean Auguste Dominique Ingres "La Grande Odalisque" (1814)
(Sexy, isn't she? Well, at least I think she is sexy…) Anyways (- although NOT anyways:  sexy or not sexy does play a role in this discussion!), so this painting about… what? Ingres' gaze, and the model's gaze.
Does it count to conclude: everyone who looked at this pictures then can be counted in the list of people and their specific gender this painting is allegedly about?
But this painting was not created free-lance, it is a commission, and it was commissioned by a woman: Napoleon's younger sister, Queen Caroline Murat of Naples (or full title: Marie Annonciade Caroline Murat, née Bonaparte).
NOW WHAT?
And the lady was married twice with children. Why possibly would a woman, who is not even openly gay, want to look at a sexy naked lady, and so badly that she orders one painted by an expensive painter? Oh dear, how terribly confusing! What does it mean?
So, now that everyone is successfully confused… let's briefly go back to the statement this writer made, one of his main interests is "feminist theory".
Wiki knows this: "Feminist theory is the extension of feminism into theoretical or philosophical discourse. It aims to understand the nature of gender inequality. (…)"
http://en.wikipedia.org/wiki/Feminist_theory
I refuse to call myself a "feminist". Here is why: I don't care so much about men or about their gaze. Let me re-phrase that: if I take a nude-photograph, posing with a goofy sign-board in my hands, and this particular photograph sky-rockets my site views and the source of these particular views are sex-related sites and online-dating sites then I might after careful consideration chose to take this photograph down again from my website, because although the sociological experiment I never intended to make, but that took place more by default, was very fruitful and gave me new insights about men that at the same time I am only to a very tiny level, if at all, interest in, then fine, then perhaps my work to some extent could have something to do with 'the male gaze'.
But I definitely do not make it for that, it happens. I don't care, but if others care and act upon it, and if I do not like that then I might re-act, granted I can be bothered enough. That may be professionally a bad move, because particularly this photograph did win an award and making work in that directions seems to be very easy to promote. But the point is: even if it sells well, I am not that interested in it, because what it is about does not apply so much to how I identify myself at the moment.
I do not feel that suppressed and exploited by men, not because I would live such a sheltered existence that there was no chance for conflict, but simply because I am old enough to stand my ground and I have other to me more interesting topics to do research on. That simple, that disappointingly boring.
And, to confuse further: my artistic concerns change over time. I am human and not stuck in one spot in time and place. And since my concerns may shift (hopefully they do!), that would be one more reason to occasionally double-check.
For example currently I am truly interested in why take a photograph and the fetish-effect a photograph does take on, which does also include the option of being a sexual fetish, but that is not my main interest at all, and if there is a difference in taking a photograph of a living person versus taking a photograph of a doll of a person.
The question I am asking is: can one say my work is about 'the male gaze', only because men may look at it even if I did not intend to make the work for specifically men to look at it?
In reality I think it is very important to stick to this part of my artist statement:
- why are we taking photographs of women?
- what is the difference of men taking photographs of women versus women taking photographs of women?"
But doing so, when looking at my photography depicting women, even naked ones, particularly my constructed photography, for which I make the models myself, keep in mind in the first instance I am a woman. I am the same (gender) that is depicted in my pictures, not 'the opposite gender'. Hans Bellmer and Morton Bartlett both created female dolls based on the idea of "the object of their desire". But Mark Hogencamp builds a city ("Marwencol") populated with men and women, interesting enough the women-dolls saving the doll symbolizing himself. There are practically no male dolls in my constructed photography.
As a woman I go through different stages in my live and make various typical, perhaps even stereo-typical life experiences, childhood, youth, sexuality, the question of beauty, childbearing, relationships, age. And when I take my clothes off, I swear to God, under these clothes is a totally naked women, what a surprise! Every morning looking in the mirror in the bathroom I am so surprised and my upstairs neighbours can hear me shout: "Oh my God! There is a naked woman in my bathroom!" No, fooled you. My upstairs neighbours leave the house before me, they can't hear anything.
I fully admit, whilst I actually do spend some thought on not annoying my neighbours, I simply do not think so much about the situation of men in general. Sorry about that. Then again, why should I care?, I am a woman.
There are plenty of male artists out there, that make tons of art about men and a man's world, and I would not even be able to name any who is willing and able to make art-world about "women's world" making an effort to portray it from a "woman's viewpoint" and why would he?
Why should I be any different from that? What do I care what men think and feel, I am sure they will try to communicate some of it to me and then I can discuss, but I am not making artwork that automatically comes from a viewpoint of another person's situation, that would be a man's situation, even if I depict something that seems particularly interesting to men.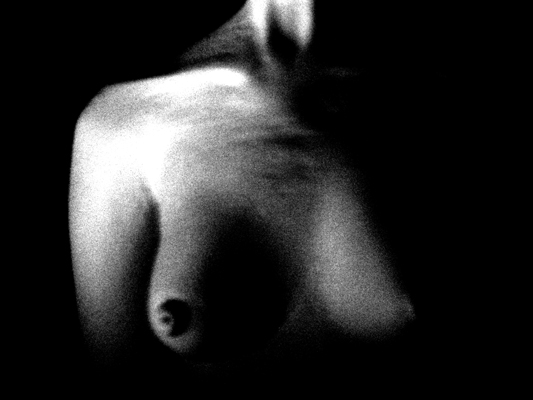 Josiane Keller "breast" (2014)
I am making images about "my world" from "my viewpoint", naturally that is "a woman's viewpoint", but it is also "a human's viewpoint". Same as men make work that comes from a "man's viewpoint" and can also come from "a human's viewpoint". 
Besides the work in the "Haifischflossen"-project, I am not always dealing with the SELF and my own gender. I make other work with different topics and at times, when there is the chance, do shared projects, where I am trying to express the situation of others, for exactly the reason to try and relate to others. For instance the "Each reflection"-project would be a project I was making specifically about the experience of other people, in this case street youth, and I tried my very best to go as far as possible to merge into their feelings, experiences and conclusions, as if they were my own, trying to take my ego completely out of the process as much as that is even possible and making myself deliberately a tool for the participants in this project in order to express something through the images we come up with combined forces together, exactly the way they would want to say it to as close as possible to that:
http://www.josianekeller.com/category/whats-this-ceramics-painting-photography/each-reflection-of-myself-echoes-a-different-emotion-at-me-20-heroes-from-the-city-of-roses/
I try the same thing when I interview someone, I make a conscious effort not to use another person's work or statements a vehicle for my own concerns, although naturally so it happens often enough, and some artists out there do not mind and some welcome it. Personally, particularly in the situation of being interviewed I do not like that to happen, same as if at all possible I try not to allow it to happen with interviews about my own work, that is why I always double-check with people if they are happy with what I wrote and I wish people interviewing me would do so, too. At the end of the day (* a very British expression!) one can't know for sure what another person is about.
I am only saying, even if you are a man, and have certain ways of approaching life, do not forget to consider that work made by a woman may be not about the same topic as if you as men would have made work that might look similar.
Which finally brings me to the gorgeous photographs of LIFE photographer Nina Leen,
http://life.time.com/nina-leen/
who has a show coming up at Daniel Cooney Fine Art in New York from March 26 through May 15:
http://www.danielcooneyfineart.com/leen_photography.html
and so there are currently articles about are spooking around the internet, for example this one:
http://www.slate.com/blogs/behold/2015/03/15/nina_leen_a_mysterious_person_and_a_prolific_photographer_of_animals_and.html
and:
http://www.newyorker.com/culture/photo-booth/the-surreal-world-of-nina-leen
and then:
http://wildbeautyworld.com/wb_v1/2013/10/09/faces-the-weird-world-of-nina-leen/
so she is "surreal", "mysterious" and "weird" . Is she? Perhaps I don't get it.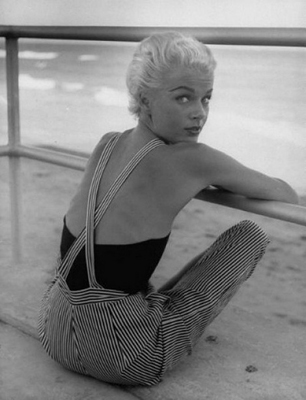 Nina Leen "Miami" (1955)
Is that a photograph about "the male gaze" or "the female gaze" or what is this about?
How about this one: male or female gaze, or any gaze, really?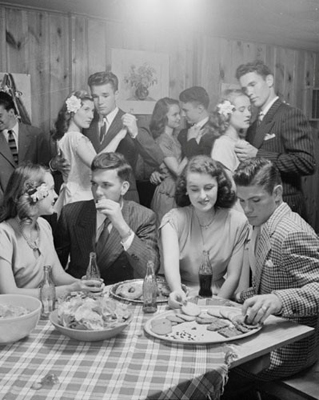 Nina Leen "Teenagers at a party, Tulsa, OK" (1947)
To me it she a woman, taking pictures of people, some of them being women. Or photographs of women in situations, to me very much from "a woman's viewpoint" (as opposed to "the male gaze"):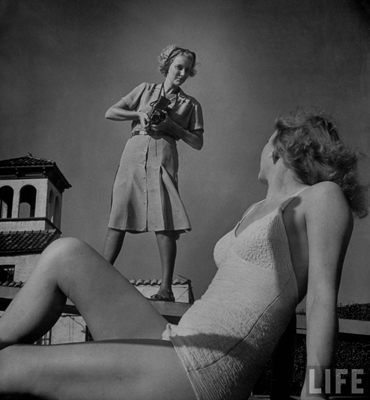 Nina Leen /LIFE magazine "with model" (date unknown*)
Then she did this series on the dancer Margaret Severn: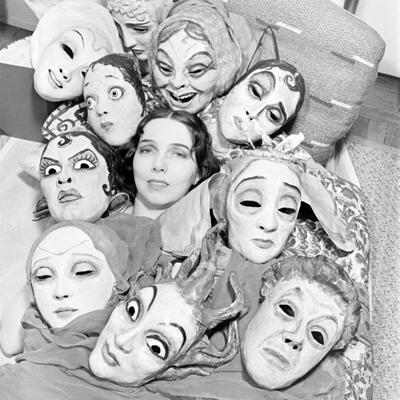 Nina Leen "Mask Dances /Margaret Severn" (date unknown*)
Unfortunately despite my best efforts I can't seem to come up with a reliable *date for these 'mask dance'-photographs, but since Margaret Severn did her mask dance around 1921 I guess the photographs must stem from about this period, too.
http://en.wikipedia.org/wiki/Margaret_Severn
By the way, compare this gorgeous picture of hers, again showing Margaret Severn with mask: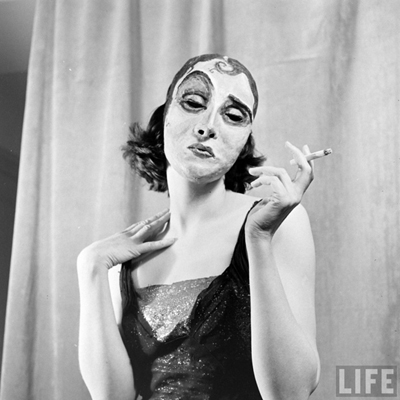 Nina Leen / LIFE magazine "mask dance by Margaret Severn" (date unknown*)
coincidentally similar, compare with: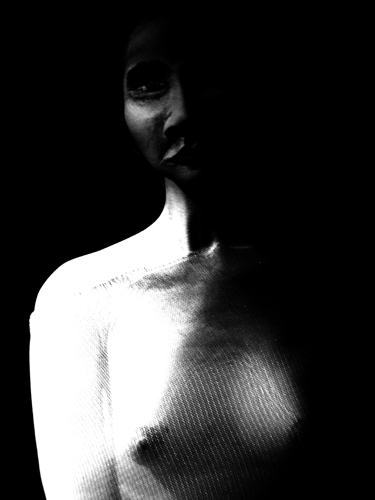 Josiane Keller "Agnes with mask" (date known: 2014)
Listen also to Margaret Severn, talk about the masks and the dance in this video: 
https://www.youtube.com/watch?v=QT3qQj56N_g
Interesting: a female dancer, using masks.
Here you can see some more mask photos from this series:
https://mimiberlinblog.wordpress.com/2014/09/21/mask-dances-by-margaret-severn/
So far about this for now. Surely more will come up, but enough for tonight, I am going to bed. Happy Spring 2015, male and female gazers!
Oh, one more thing: my 'prostitutes'- photographs:
http://www.josianekeller.com/category/whats-this-ceramics-painting-photography/prostitutes-2008-2014/
they are in the first instance not about 'prostitution' as in the sense of 'sex-work', nor really exclusively about 'women', or 'women's issues' , instead are they about the 'discrepancy an artist may or may not find himself or herself be in, attempting to market one's work and having to put up with quite a lot of loss of control, to various extents', where to draw the line is up to the individual artist.
In connection to this problem I am planning my next project to be on "Circus Life", similar issue: the partially ridiculous tricks artists find themselves doing to show and market their work. Coincidentally again Nina Leen took a gorgeous series of photographs featuring female (damn, again that bloody male gaze!!) Circus artists, for example this one here: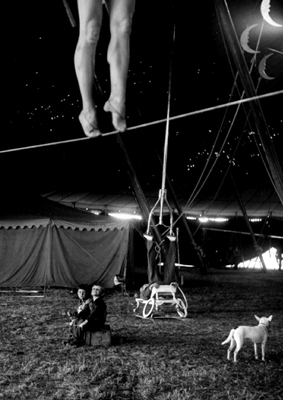 Nina Leen /LIFE magazine "Ringling Brothers – Circus" (1949)
(At last I have a date for her work!) Good night for now.