February 25, 2015
Faceblindness, nearsightedness and seeing in categories – why do we see what we see? Categories: nature, nude, portrait, travel, wild life, a poor memory according to Lewis Carroll, four expectable photographs and why is it sad when Bambi's mother gets shot?
On faceblindness (Prosopagnosia):
http://en.wikipedia.org/wiki/Prosopagnosia
wiki explains it like this:
" Prosopagnosia /ˌprɒsəpæɡˈnoʊʒə/ (Greek: "prosopon" = "face", "agnosia" = "not knowing"), also called face blindness, is a cognitive disorder of face perception where the ability to recognize faces is impaired, while other aspects of visual processing (e.g., object discrimination) and intellectual functioning (e.g., decision making) remain intact. …"
On nearsightedness / shortsightedness (Myopia):
http://en.wikipedia.org/wiki/Myopia
wiki thinks this:
" Myopia (Ancient Greek: μυωπία, muōpia, from myein "to shut (like a mole – mys/mus in Greek)" – ops (gen. opos) "eye, look, sight") literally meaning "trying to see like a mole" (mys/mus), commonly known as near-sightedness (American English) and short-sightedness (British English), is a condition of the eye where the light that comes in does not directly focus on the retina but in front of it, causing the image that one sees when looking at a distant object to be out of focus, but in focus when looking at a close object. …"
I have both of the above.
The thing is: a faceblind person A; can't visually recognize people he or she should know by facial features, because they are friends or otherwise well enough known that recognition is expected;
and B; consequently, a faceblind person mistakes other people for some they do actually know, same reason, because they can't really remember all details and check fast enough. Or they go for different ways to recognize a person.
As with other disabilities it comes in various degrees, some have it bad, some a bit. (I am in between.) So, I recognize people by association, that would be a person who always works the counter in such-and-such shop I would know in the shop, but not on the street or in different clothes at a party.
And then through what I want to call just to give the thing a name "recognition by categorical seeing", I mean by that for instance I remember a certain height, distances in context to each other, like eyes versus nose versus moth, hairstyle or beard, and then things like tone of voice and typical movement pattern.
But the trouble sets in because these are only somewhat unique, and there will be others with similar features, also a red beard, the same lisp and the same high pitch voice. And all these people will end up in that category in my memory and get mixed up with each other.
For instance I still have not managed to tell my neighbors apart, both same height, weight, age, similar voice, beard and each one has a black cat. Oh dear! They seem to me like Tweedledum and Tweedledee. Or during watching a movie with several blond actresses of similar age I will probably sometime along the plot think "Why is she now doing this, if earlier she did that?", not aware of the fact that they are two different characters.
So roughly like that.
But then I am now combing through these plenty of photography competitions, seeing if there might be some where I could submit my new work to. And some are massive and have these categories, like nature, nude, portrait, travel, wild lifeand so on. And after I look through them I think it almost seems like they don't want as diverse a range of photographs, but instead they want those that fit with the others, they have seen last year and the year before.
How many times have I seen now that elegant black and white nude, where you see a breast, a belly, and long, brunette curls (usually the model for bw nudes is brunette, I suppose to get more contrast in the picture), and how many times have I seen that series of photos of the Indian HOLI festival, everyone jumping around, covered in colored pigments, how often am I going to see that wrinkly-skin rhino close-up, interchangeable with wrinkly-skin elephant?
And these photographs, no matter how often we have seen them before, always are among the award winning ones, no matter how often they state in the rules they are the one competition or gallery or organization that seeks the unusual, original, out-of-the-box-thinking photographic approach, all what changes is the cameras seem to upgrade and the images show more and more tiny details from top to bottom and left to right of the image.
So even if I am nearsighted, I am wondering if there is every a human being who really sees everything in detail like on these photographs, without being on some wild hallucinogenic drug, just based on his natural eyesight.
Besides that, I am wondering: are we so used to these images that we are not really looking for new images anyways, but for reproduced ones that confirm the images we have in our visual memory anyways already, for instance in the categories nature, nude, portrait, travel, wild life?
Are we only feeding our subconscious expectations, are we even able to create new images at all?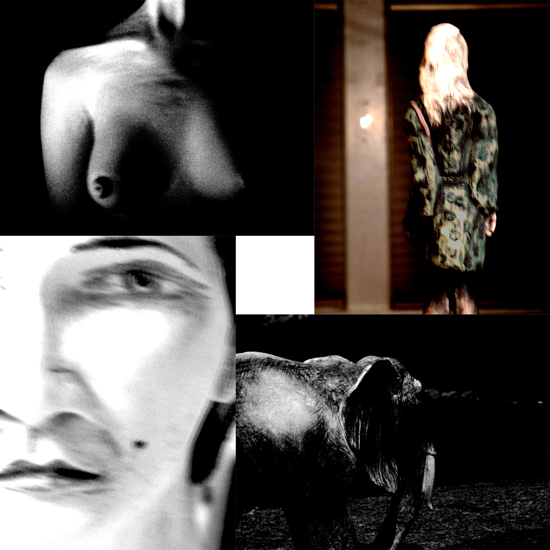 Josiane Keller "four expectable photographs" (2015)
(…)
'I don't understand you,' said Alice. 'It's dreadfully confusing!'
'That's the effect of living backwards,' the Queen said kindly: 'it always makes one a little giddy at first —'
'Living backwards!' Alice repeated in great astonishment. 'I never heard of such a thing!'
'— but there's one great advantage in it, that one's memory works both ways.'
'I'm sure mine only works one way,' Alice remarked. 'I can't remember things before they happen.'
'It's a poor sort of memory that only works backwards,' the Queen remarked.  (…)
Through the Looking-Glass, and What Alice Found There, Chapter Five: Wool and Water, by Lewis Carroll /Charles Lutwidge Dodgson, (1871)
So perhaps that is where we can see a connection between painting and photography (at least photography outside of scientific photography, where the apparatus for the first time makes us see matters in ways we have never before been able to see that way with the naked human eye, like a microscope does.)
When a child paints a picture and we are able to recognize or at least guess what is depicted the child is happy and the parent is proud (or vice versa, really…), anyways: the objective seems to be not the artistic expression but to communicate the essentials of whatever the child is concerned with painting, which we recognize by association, not necessarily because every detail is depicted, which is anyways how faceblind people see (or not see).
And this sort of let's say "banal" photography serves the same function: to symbolize the basic features of what we know, very reassuring in some ways. And if it does that, we think automatically it is a "good" picture. Perhaps some people can only see what they know already, not even able to recognize something they have not already on file in their visual memory.
As that is the basis on which we are at all able, as to opposed a dog, to recognize anything in a drawing or on a photograph, any thing that in real life is of a different scale, color and three-dimensional, where on a painting or photograph it may be considerably smaller, possibly black-white and two dimensional, we still recognize it, where a dog would see a small rectangular piece of paper.
The reason why we can recognize anything depicted on a photograph is that we have seen it already before, either in reality or depicted or we have been taught through human language in combination with the image what it is supposed to depict. A shortcut is created in the brain that saves the energy to see what is depicted all new, and the depicted image becomes a symbol for what it shows. That is where we allow flaws, we do not need all details, we are able to understand the image even if only some of the information is being provided and we are able to be tricked.
It is the basis on which a photograph or even an animated movie can cause an emotional reaction in us, such as crying over Bambi's mother being shot. Bambi is not even a single drawing, it is a huge amount of separate drawings shown in sequence after each other so they create the illusion of an actual fawn, and it is drawn as a caricature of a fawn. The essentials are there that we need to trigger the conclusion: fawn.
Try it out for yourself:
https://www.youtube.com/watch?v=JTZPMJj-X9M
Pretty sad, huh? Why is that sad? It is a cartoon, after all.
But working in constructed photography, where I create the scene before I take the shot I want to go so far as to say: photographers (also those who do not create their scenes), take the picture at that "decisive moment" (*Henri Cartier-Bresson) that is nothing but recognizing an image matching with images they have seen before, in some way or another.
Naturally so, if you have seen more things you have more options to choose from to recognize a new vision.