June 27, 2015
Alice is no longer pouting. By now we got into a serious argument. She is screaming through the flat "You PROMISED us you would NEVER do that anymore!" Various cooking devices are being thrown heartfully to the ground and land there with loud crashes, not all of them keep the shape they had before Alice got a hold of them.
It's not that I don't understand her. It's not funny, her lot. People don't think so much about it and there is good money in it, for some. But from Alice's and the girls' perspective it's a nightmare. That's why at some point I didn't want to have anything to do with anymore. I felt for the girls.
I promised them other jobs, where they would only model for the photographs, not actually be sold. With the current boom in photography it looked like a plan, I thought this would be it and we were all very enthusiastic, me maybe most of everyone involved.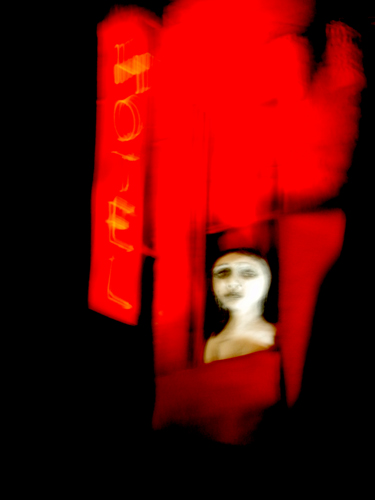 Josiane Keller "Vicky looking out from the hotel window" (2015)
Just the trick is the marketing, I underestimated that part. I am just a poor gypsy, trying to make it. I am used to pretty direct hand-to-hand exchange of goods for money, that's it, no thrills, I don't know another way. I don't dress, talk or party like these guys. The communication is less than fluent, to say the least. I know I have good stuff, we did some pretty great work, the girls above anyone, the bunny people too, not to forget them, as those were the first ones I felt I can't just sell, no matter how many people made me a good offer.
And we got plenty of praise, did shows, won awards, all that was in place. Just when it comes down to actual money, by now it is obvious. Money has nothing to do with all that. At that point one has to be willing to be an Art Clown. (Or start an affair with someone influential, which ultimately ends up the same thing, doesn't it?)
The whole business is so undignified, nobody talks about the abuse involved, people just readily play along with it, they say it's just part of the game, and I can't do that or won't do that, whichever way you want to look at it.
So that's the end of the story, since money has to happen somewhere. It's either my dignity or the girls' dignity, seems there is no third option that actually works.
Poor Alice, poor Vicky, poor Agnes, poor girls, Josette will just laugh, she probably assumed this anyways the whole time to end up that way. I didn't tell anyone that I already looked at Vicky to go first, with her exotic looks, and Alice and Agnes would do well, too, I know it, that's what people want. They go for looks, not character, idiots that they are. If it was up to me Josette would be prime, and Gilberte, but I know how these things go.
In reality I am still squeezing my head for an alternative solution. This is not funny for me either, I wish Alice would get the point of that. Listening to the banging stuff crashing to the kitchen floor at least currently she does not.