September 29, 2013
Usually spam is annoying, and thankfully so I have a brilliant spam-filter that makes sure none of it appears on my beautiful BLOG here.
But occasionally I have a look what is going in in the world of SPAM and today I got this cryptic message full of poetry, so although it is spam it is so gorgeous I want to share it with you here:
"Properly, lobsters are becoming as among the first born inclinations with respect to element foodies however already this tool rules some of the best selects to gain sea foods loving couples. … "
This could be almost a poem by Lewis Carroll!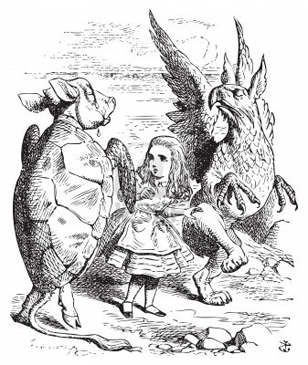 John Tenniel "Alice, the Mock Turtle and the Gryphon" (1865)
See "Alice in Wonderland", Chapter 10 (illustrated by the fabulous Sir John Tenniel – *usually I am not a fan of Royal titles, but this one is well deserved, so hey!):
'Tis the voice of the Lobster: I heard him declare
"You have baked me too brown, I must sugar my hair."
As a duck with its eyelids, so he with his nose
Trims his belt and his buttons, and turns out his toes.
When the sands are all dry, he is gay as a lark,
And will talk in contemptuous tones of the Shark;
But, when the tide rises and sharks are around,
His voice has a timid and tremulous sound.
I passed by his garden, and marked, with one eye,
How the Owl and the Panther were sharing a pie:
The Panther took pie-crust, and gravy, and meat,
While the Owl had the dish as its share of the treat.
When the pie was all finished, the Owl, as a boon,
Was kindly permitted to pocket the spoon;
While the Panther received knife and fork with a growl,
And concluded the banquet by — *
http://www.authorama.com/alice-in-wonderland-10.html
The illustrations of both Alice books are by Sir John Tenniel, http://en.wikipedia.org/wiki/John_Tenniel, who in his time was mainly working for the satirical magazine PUNCH http://en.wikipedia.org/wiki/Punch_(magazine).
Interesting enough he was not interested to illustrate Carroll's "The Hunting of the Snark" finding Lewis Carroll way too difficult personality to deal with, so this book was illustrated by Henry Holiday http://en.wikipedia.org/wiki/Henry_Holiday, a Pre-Raphaelite who was mainly making stained glass windows for churches. Holiday, although surprised to be approached with the commission by Carroll, had no further issues and the illustrations are stunning http://en.wikipedia.org/wiki/The_Hunting_of_the_Snark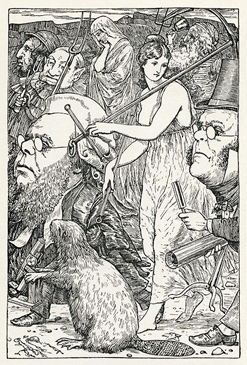 Henry Holiday "Hunting of the Snark – Plate 6″ (1876)
I find this style of Victorian illustration by both artists for Lewis Carroll's work incredibly fascinating and it inspired me for my own work during my research year at Kyoto Seika University in 2008/09 on "The Role of Women in Japan" called "Usagi-chan":
http://www.josianekeller.com/category/usagi-chan/cartoon-2/
Josiane Keller "This time it feels real" (2008)
At that time I started using characters, mainly female one, with bunny ears as you can also see in more recent work with photographed ceramic figures:
http://www.josianekeller.com/category/now/each-reflection-of-myself-echoes-a-different-emotion-at-me-20-heroes-from-the-city-of-roses/
The bunny-ears were my symbol for human naivety and all the good and bad what that includes.
Especially with the photographed figures I felt they look more "real" with the bunny-ears that without them.
Only just now I am thinking about no longer using the bunny ears  and what changes that would bring to the work.
[PS: This interlude is not "brief" any longer.]