September 2, 2013
Yesterday I was invited to my friend's birthday party and this guy, retired actor from NY God knows chatted me up, laying it on real thick, like first cunningly checking if or if not I was married, then surprise-delighted abut the proximity of HIS apartment to MY apartment and then trying his best to tangle me up like a string of spaghetti in this BLAH, so he is now making documentaries, I mean especially RIGHT NOW, and coincidentally about artists and he wanted to be so very unconventional to present the artists in this super-radical never before done way: they way THE ARTIST wanted his work being presented, and for some reason he could not find ANY artist to talk to (get fucking real, man! The town is stuffed to the brim with artists!!!), and if I could possibly think of a way how I would possibly like MY WORK to be presented on film, skipping the question IF I wanted my work to be in his "documentary".
(It is almost as stupid as: "You must be a model, right?")
I'm thinking the whole time "Ever heard of youtube, dearie?", but being the polite person that I was brought up as I told him I knew of at least 3 ("three"!) artists that were all total geniuses and right here in the area, but that was for some mysterious reason totally uninteresting to him. And then, somehow, the discussion magically took a turn and I told him that I think 'this country does not allow men to be real men.' 
(*Actually I don't hold the copyright over this fabulous statement. When I say that I am actually quoting my French-Russian friend Jeanne, who's partner, who is also a painter, runs a boxing gym http://www.bigfootgym.org.
Years ago in a discussion about American men she came up with it, and she had told me: "You should see them: men are breaking down in the gym crying, as finally they are allowed to do something male!" Hmmm. I believe it!)
Anyways, the good man totally flipped, almost keeled over hearing this and started laughing hysterically and yelling over and over"You must be crazy! You must be crazy!" God bless him, whatever, just that he also simultaneously couldn't keep his frigging fingers from touching my face, arms and chest. So whilst I was thinking to myself "See, that is exactly what I mean when I say so…" I told him I was gonna go now and he should best not touch women he doesn't know, but all he had to say to that was "Sorry." 
I mean, come on, guys. Yes, yes, I know "I can get any pussy I want whenever I want it." I know, I know. It's too bad.
J.E.R.K. 
(Apparently he asked later in all innocence 'why I had left so abruptly'!)
Oh well.
Once again I am thinking: "Is it possible to be an artist + go out dressed showing some cleavage – WITHOUT being egged on by types like him – OR does it really require wearing spikes and black leather and a T-Shirt sporting a huge a fuck finger at all times? Should I possibly ask Bryan to tattoo me a screaming cat face over my face, would that bring relief from the type?" Maybe not even that.
Nevermind, as my beloved friend Kishimoto would have said.
Anyways, so that was that party, and so I grabbed The Mungo and left and to compensate the experience we staid out for ages and today being Labor Day went again having breakfast real early, so in brief: I am TOTALLY TIRED and not motivated to test the brand new Sallie cast today, although, hurrah hurrah hurrah: IT IS DONE!!!!!!!!!!!!!!!!!!!!! And it looks like this: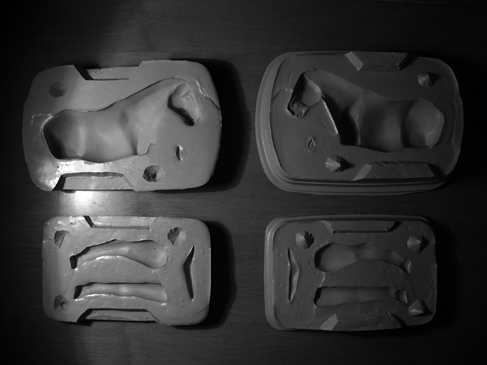 Josiane Keller "the Sallie cast" (2013)
Cruising around we came across the age-old discussion "Are Ernie and Bert gay (since the are taking BATHS together!)?" and "If Ernie and Bert are NOT GAY, what sort of relationship do they have anyways?" 
Well, the true answer to this is: Ernie and Bert are CHILDREN, children's program are featuring children,  so children can identify… get it? And that may be only in the translated version of my home-country clear, I am not sure on that one, but so far I always thought Bert was Ernie's older brother, since Ernie is always checking what Bert is doing and asking Bert's advice and so on. So there. Hope that is clear now.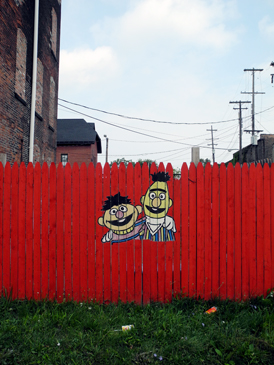 Josiane Keller "Ernie and Bert- fence" (2013)
But some of us think Ernie and Bert are 'just friends'. Oh well…
And now I need to find some more coffee, so maybe tonight I will try the Sallie cast, but not now.
7 Responses to "A really lame chat-up line, why Boxing is good for you, the Sallie-cast, the truth about Ernie and Bert's connection and I am very tired and need some coffee"