August 31, 2013
Sallie's limbs are dry enough to cast.
God knows. In my school from 100 years ago we would learn how to cast these things in plaster.
(*The idea is those tacky German porcelain Rococco shepherdesses and shepherds making out on little benches, some American ceramicists think it is the hippest thing on earth to inform their work by these figures, to me and maybe a couple of others from my culture it was a tacky thing, is a tacky thing and will be a tacky thing no matter what people try to do with it.
If you like 'tacky', go ahead, that's the route to go then. And 'tacky' sells real well, I know that, as for a couple of years I made a good income selling 'tacky' until it was going too much on my own nerves to continue. But it is a very nice thing to make money with something you make and then put it in a box and sell it, that simple, versus in the "higher arts" it first has to go a number of rounds in front of eyes of who-ever-it-is who is supposedly the current experts to acknowledge that it is worthy. Til then you only spend and probably need a more or less annoying side-job to cover those expenses. So that is a considerable difference.)
Anyways, the question here is entirely a technical one: plaster for the mold or another material?
And since I created a detailed, hopefully expressive head with parts that are what in my language is called "untergriffig" (please don't ask what that means translated in English, but it means you get a sort of angle that will break off if you put a simple plaster mold around it, to avoid that you would have to make many separate parts…is it worth it?)
There is kautschuk (flexible natural rubber) and other options. I will check the nearby art and craft shop to see what they offer in alternatives and then hopefully get it done this afternoon.
Meanwhile I came across a great article by Julian Sancton on the making of the figures of Wes Anderson's "The Fantastic Mr. Fox":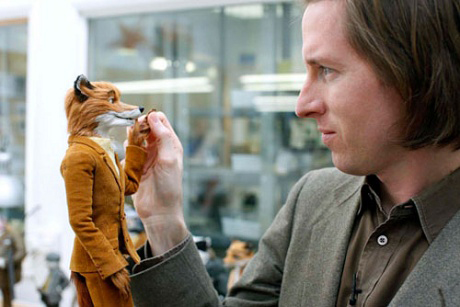 Vanity Fair "Wes Anderson checking Mr. Fox figure" (2009)
http://www.vanityfair.com/online/oscars/2009/11/how-the-puppets-from-fantastic-mr-fox-were-made-slideshow
The figures were produced by Ian Mackinnon & Peter Saunders based in Manchester, check their site here:
http://www.mackinnonandsaunders.com/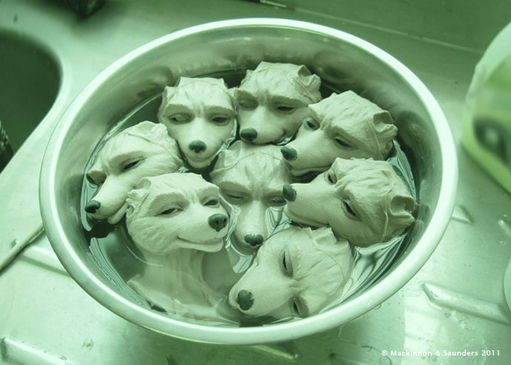 Mackinnon & Saunders "Washing foam latex fox skins /'Fantastic Mr Fox'" (2009)
This is an image from their site about, well read it yourself. All that and more for only one character. So if you do the math, in terms of workload it seems to me with my way less intensive style (and I want it that way, too much perfection takes away from expression) I might as well make 16 Sallies, instead of one with all sorts of movable parts…
BUT: since I am a virgin in this and also a pioneer at the same time if I am right or not only time will tell, and since the deadline for my project (ARC Gallery show 'INTERFACE' http://www.arcgallery.org/news-events.aspx) is approaching beginning of October I get only exactly one shot at it, at least for this show.
Whilst I went out scouting for some plaster alternative mould material I came across Nate, who showed me his new bear marionette: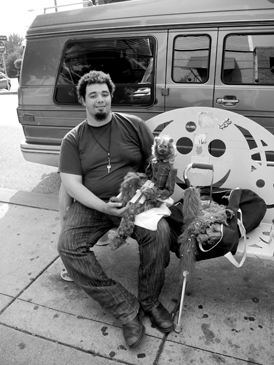 Josiane Keller "Nate with a new bear marionette" (2013)
Nate is pretty cool. If you plan some sort of function and want a guy with a puppet of some sorts he is your man; this is his site:
http://natepuppets.blogspot.com/
(…)
Some hours later Sallie is all covered in VASELINE (isn't there a new song about that…?) and half of all Sallie is stuck in a rubber mold: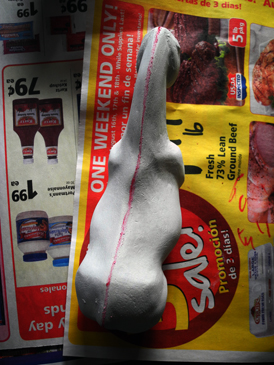 Josiane Keller "Sallie with marked halves" (2013)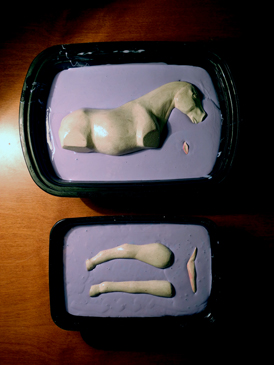 Josiane Keller "Sallie half in moulds" (2013)
The stuff needs to cure for 6 ("six") hours, which means I get the evening off. Of course I could do something different, like I am planning this gorilla… Well, anyways, Sallie at least gets to sit there and rest till tomorrow.
And meanwhile, just for the heck of it, a picture of The Mungo with a nice white clay mask: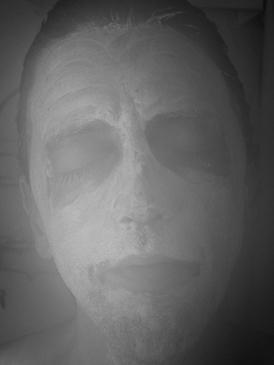 Josiane Keller "Mungo with white clay mask" (2013)
So far that's it for today.
Oh, before you click off, sing with me: The Flaming Lips and "She Don't Use Jelly" from 'Transmissions from the Satellite Heart' (1993):
http://www.youtube.com/watch?v=AfpyoGFJNNE
2 Responses to "Sallie Gardner-cast, an article by Julian Sancton on how the puppets for Wes Anderson's "The Fantastic Mr Fox" were made, Nate with a new bear marionette, Sallie half-cast and "She Don't Use Jelly""