August 26, 2013
I am back from the wonderful mountains. I shouldn't be, I should be there, but I am here. Oh well. So, back to serious, serious work.
As  a musical warm-up the slightly bizarre opening scene of "Les Contes d'Hoffman": http://www.youtube.com/watch?v=-mmEh4_Nyh0
Lovely.
OK. And now. I tried my luck with the DISCO comic on the overhead projector, and guess what? It's totally BLACK! All BLACK!!!
So that idea goes right into the bin. Luckily the sun is shining brightly to tease me back in my friggin' studio room and not in the woods, where I should be… and so I tried my luck again and it came out a tic better. Because I wanted the edges more blurry.
Looks like this:
 Josiane Keller "MURMEL Comic Disco No.2″ (2013)
and close-up like this: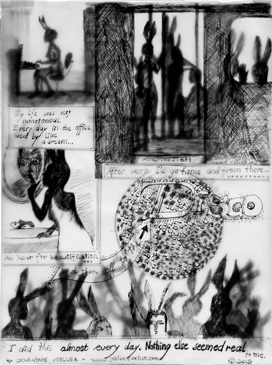 Josiane Keller "MURMEL comic Disco No.2″ (2013)
So that's done. No masterpiece, but gives me some good ideas for the NEXT masterpiece, there!
Anyways, it's time for horses now. And I am in a hurry. I need immediately 16 horses in various stages of gallop.
And to do that I will start with one. Right here and now. And I am so not in the mood,… I could… run around in the woods…. if only I was back in the mountains….. OK. Moral is low, but it doesn't help, so let's get started: Horse No.1.
Sallie Gardner is running: http://www.youtube.com/watch?v=IEqccPhsqgA
2 Responses to "Back from the beautiful mountains and wishing I was still there, once again DISCO (No.2) and running horse No.1"