May 1, 2013
So. Two projects. Hmm. Cookie's interview arrived last night together with more Daniel footage from Jim Wolpaw.
I am not sure how I can effectively document process of working on BOTH of them next to each other without being utterly confusing to people. Well. Good news is that the Daniel-project is really much faster and the filming of the completed statue will be in July, so not too long from now. That means after that I have full work power for the BUFFALO RUNNING-project alone, but it also means that I have to chunk in to get the Daniel-project going in a proper way.
The BUFFALO RUNNING-project then again is way too interesting for me to postpone it. So we simply have to put them side by side for time being, I have no better idea.
Cookie sent his interview in diary form copied, which looks like this: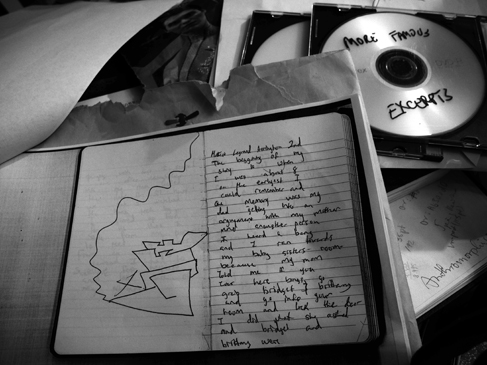 Josiane Keller "Cookie's interview" (2013)
So first thing to do with this is deciphering it all and typing it all out. (*In the back on the right top side of the copies you see latest Daniel-footage material "More Famous Excerpts" to screen through too.)
And if you want to see how I look like reading and watching this material right now I can show you, it looks like this:
 Josiane Keller "reading Cookie's interview" (2013)
Jim Wolpaw is sending me more ideas in e-mails, so I am accumulating stuff to work from. So far we established the Daniel sculpture will wear either a raincoat or a bathrobe.
[*Disclaimer:
In yet another of many spur-of-the-moment changes of mind on the final filming day the director and his self-acclaimed co-director decided to have the peace activist turn himself into a suicide bomber and blow himself up, this possibly in a dream sequence. (Despite the film being funded by a grant and at this point having been since over five years in production it never had a decided upon ongoing script and had been changed and added on continuously.)
Both The Mungo and I felt this would change the message of the film drastically.
We are both morally opposed to such violence, no matter if it is actual or on film or meant seriously or possibly comical in the eyes of the director or anybody else.
We tried discussing our perspective with the director who was not willing to re-consider.
For this reason we both wished we had never been a part of this project. We consequently asked for no longer being credited in connection with this project.]
In terms of Saint statues I am lucky, as right where I grew up, in beautiful Bavaria, is a school dedicated to the art of wood carving exactly these saint sculptures so very popular where I am from since centuries; if you feel inclined to learn how to do that you can apply right here: http://www.berufsfachschule-berchtesgaden.de/pages/bildhauer/start.htm
And luckily I have a friend who went to high school with me, Klaus Effern, sculptor in Bremen http://www.klaus-effern.de/start.html, who originally went to this school. His work by now looks completely different, but he can still give me the necessary advice: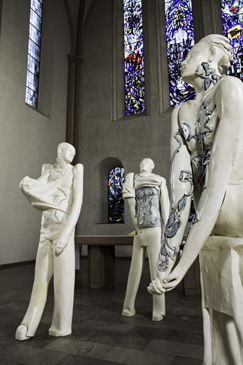 Klaus Effern "Junge Schmerzensmaenner/ Unantastbar", Installation (2009)
Klaus suggested I should check into Baroque sculptures, being the most typical in our home area, but my think is really Gothic style. We will see.
And the rather excellent art museum here in C-town is also not empty of nice examples: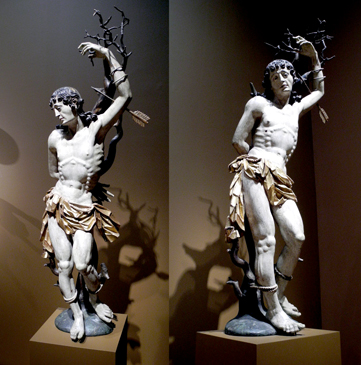 Josiane Keller (photo) "Saint Sebastian at CMA" (1600-1620)
For example this one.
Today I came across for the first time an animator named Brent Green. Apparently he is from Pennsylvania and makes very Svankmajeresque work, if I may say so, check it out here: http://site.nervousfilms.com/
Particularly I liked his film "Carlin" on his diabetic aunt: https://vimeo.com/10525510;
One big reason why is that he created a stop-motion animation, but instead of using small scale figures he used a life-size house and furniture, stuffed chicken and 1:1 scale puppet = BRILLIANT!!!
I asked the man if he is available for interview, we will see. Pretty amazing!
*It turns out YES, the man is available! Hurrah! So I will schedule an interview date with him and you will read everything about it right here on this BLOG!!!
2 Responses to "BUFFALO RUNNING versus Daniel Saint of Irony, Klaus Effern's advice and animation by Brent Green"