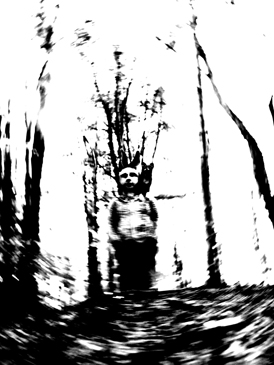 Michael (21)
"I had complications with financial aid. I lived with my mom until about 20, she paid my rent for nearly a year (she offered to pay for three months, but she's cool), and then I moved into PORCHLIGHT, a JANUS YOUTH SHELTER.
But I'm about to start getting financial aid this term. So now I'm about to be
BUENO.
GUT.
Viel Spass.
Ausgezeichnet.
Most days I eat two or three meals at OUTSIDE IN , NEW AVENUES FOR YOUTH (both part of the whole JANUS YOUTH /HOMELESS YOUTH CONTINUUM THING), or p:ear. I also have food stamps, donate plasma and work at Labor Ready when I'm not at PCC.
I'm a physics major. And I go to the library and play chess at Pioneer Square.
I have a black shoulder cat with white bib and mittens. Ironically, considering the bib, called 'Blackbeard'."