August 14, 2012
Finally I managed to do Beasley's picture. I was not very hopeful, as this morning it had been raining here like crazy. Who would fly or glide through the air like a sugar-glider in the rain? But it cleared up a bit, so that one was solved. The next question: backdrop? Beasley wanted mountains. But nowhere in Cleveland are mountains (next closest ones are in Pennsylvania), or anything we could use instead. Well. At least nothing came to mind.
I tried foresty areas throughout the city, as he had mentioned he's been "imagining himself soaring + gliding over tree tops and looking down on the earth and all of it's beauty", but I could not get the right spot.
Then thought about going into one of the clinic buildings top level and trying to get that shot, despite the fact that I am the 'Queen of Vertigo' and get dizzy from just looking down onto the floor sitting on a bar stool.
And then totally out of the blue I came across the transit train lines and this is where I took this shot of Beasley: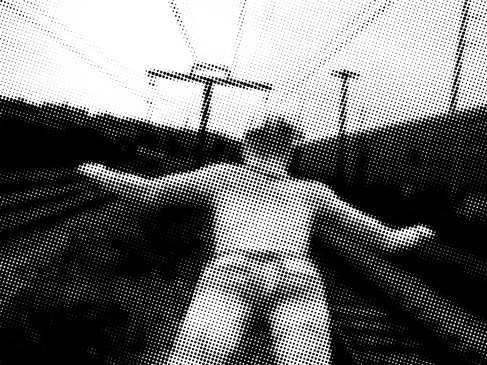 Josiane Keller "Beasley painted soaring along the train tracks in a dream" (2012)
I just had my driver's license transferred and had to do the theoretical test again, and so I know: do not EVER race any trains! But how about in our dreams?! My idea for this picture was Beasley imagining flying  and soaring along the train tracks, which as such is perfectly safe. Train tracks symbolize for me 'destination', and 'determination'; a place to arrive even if we don't see it at first. Train tracks mean also 'choosing a direction'.
Beasley stated it took him a while to become his own person instead of copying the opinions of his peers and friends.
And last not least I wanted to give this image something of my birds' death and transformation into 'a different form of'- what-I-really-can't-say (as I have not been there), but I assume 'energy of some sort'.
I choose the pixelation in this image, as it makes the picture somewhat annoying. In a dream we feel our experience is very real, but when we try to grasp it and keep it it dissolves. With this pixelation the image is more clear and detailed looking at it from a distance, but when we come close we will loose focus. (Ironically enough the same happens with the macro zoom of my camera, which originally annoyed the hell out of me, but by now I came to terms with it and figures out ways to deal with that…) On a more important level this effect expresses the experience of 'a brief moment in time', that cannot be stopped and will pass inevitably.
I had used train tracks already once in the past in one of my Usagi-chan cartoons from my research at SEIKA Uni in Kyoto, "This time it feels real!" The image shows a woman (of course: with bunny-ears), standing with a man, a fish staring into the air, by a train station. The station clock goes backwards. The train has not arrived yet and they are waiting, who knows if any train ever will arrive, but the woman looks very determined. The train-tracks seem to disappear in the infinity.
Josiane Keller "This time it feels real" (2008)
It is a less hopeful and more ironic image than the one above it of Beasley, as these two will probably never get anywhere, despite her determination and his placid good-will. But Beasley has already left the station and is on his way.
2 Responses to ""Each reflection of myself echoes a different emotion at me – 20 Heroes from the City of Roses" – production diary (LXXIV) – Beasley"