July 26, 2012
Today so far has been a totally crazy day, trying to address advertising issues of the upcoming show in October. If you have never dealt with ads for art shows you will think "What is she talking about? It is over two months away!" But in terms of ads, especially for printed material, that is already 'late', or 'just in time' (think "fitting a bridal gown" and you get the schedule  for setting up a good exhibition pretty much right!)
So. Today, my dears, it is Ox's turn. I recently met a young talented drummer Ashanti, who is not only recording for some of my video's the soundtrack, but who also initially was volunteering to help with a photo for Ox, who has stated he wants "a studio with a drum set" for his background, and I was hurrying to come up with that, or the next best thing. Looks like it's gonna be the next best thing again, sadly Ashanti's schedule was tumbled over for today, and I had to go scouting through the beautiful 'Land of the Cleves' for alternatives.
To begin with, let's once more check the actual "real" Ox, beat-boxing in this video here:
https://www.facebook.com/photo.php?v=10150987866359131
(…Meanwhile I'll rush to my onsite photo shooting place, in the hope to get a great image together. Wish me luck and see you in a bit!…)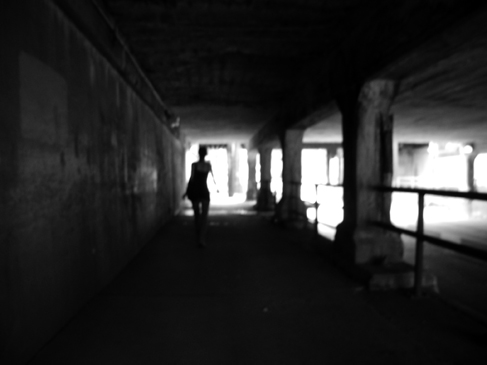 Josiane Keller "background scene scouting" (2012)
This time I took 117 pictures and one mini video footage, and was caught in an inferno of summer rain, but since I took my pictures right here, under this railroad bridge, I got only muddy and nothing much more, Ox's figure and me, we both staid dry. Which out of these pictures is going to be the winner I will honestly decide tomorrow, so check back in about 12 hours from now, then I will put it up. (OK, 14 hours!) Good night!
(…)
Obviously it took just a tad longer, but trust me: there were some real interesting options to shift around. I had narrowed the initial 117 pictures down to eight to work with. And that's the stage when the sweating starts. The objective, obviously, is to come up with an image where a totally in-animated object, a figure from clay, looks not only animated, in this case where the notion of drumming one way or another is communicated.
One favorite one is this one: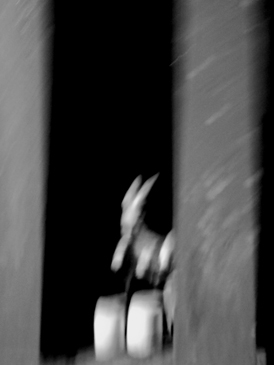 Josiane Keller  "Ox painted drumming under the bridge No.2″ (2012)
And many others. Eventually I thought I had chosen a good one, after my friend Mark McKimmie, who is a photographer and philosopher, basically had given me a half-day-workshop in questions of composition, cropping and related topics. I went off to a summer party, and all evening the thing spooked around in my head. So after I came home I dragged it back out and started pretty much all over. Here, once more: Ox painted drumming: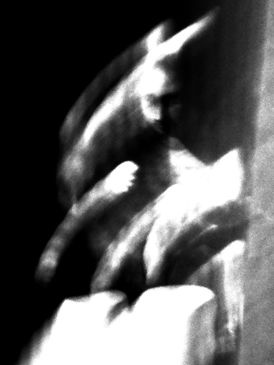 Josiane Keller "Ox painted drumming No.2″ (2012)
I can't tell if that is going to be the finalissimo version, as history has shown. But I will go to bed for now and sleep it over.
(…)
The next morning. The craziness goes on! Which one? (They are so different…) Wanna see what gives me sleepless nights and restless days? Here is "Ox painted drumming No.1″: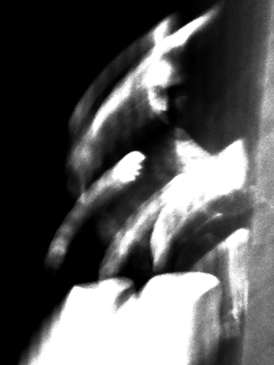 Josiane Keller "Ox painted drumming No.1″ (2012)
Hahaha, very funny. But if you concentrate on the images they look actually very different. No.2 concentrates more on the drummer as a person, No.1 on the act of drumming, plus the lines and division of the image is very Japanese thinking (diagonals all over). I can't seem to decide AT ALL. If you can and have plausible reasons, be encouraged to contact me!
And now something completely different: See the amazing giant marionettes of the French Theater troupe "Royal de Luxe" from Nante, admire this giant deep sea diver: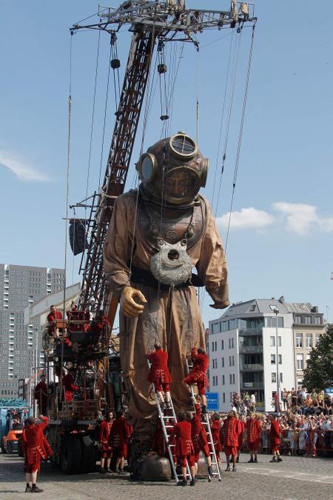 Royal de Luxe "Deep-Sea Diver, his Hand and the Little Girl-Giant" (2009)
*I put this up larger format than usual, since it has many tiny details and it's a giant after all, isn't it?
http://www.royal-de-luxe.com/en/creative-work/giant-spectacular/#, pretty magical. Read up a bit on the founder and director, Jean-Luc Courcolt: http://www.royal-de-luxe.com/en/jean-luc-courcoult/
*This here since the discussion of giant figures came up, thanks to the Olympics opening parade in London and the giant baby float of staff and patients of Great Ormond Street hospital. A little creepy (Ron Mueck's idea?), but I'm sure they had a blast! 
4 Responses to ""Each reflection of myself echoes a different emotion at me – 20 Heroes from the City of Roses" – production diary (LXV) – drawing time, Ox"