July 23, 2012
Pippa's figure. Pippa told me in terms of setting for her figure, "I dream of the ocean and whales a lot these days". Well, as it so happens my beautiful town has a very amazing mural of an ocean-scape with life-size whales and other ocean creatures wrapped around itself, which is the Cleveland Public Power Building right on Marginal Road, so if you drive coming from the East Side going downtown you pass it up, of course the other way around as well: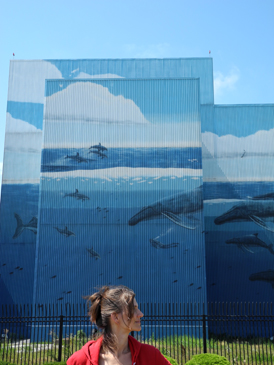 Wyland, "Song of Wales", Whale Wall No. 75 on Cleveland Public Power Building (completed 1997)
The mural is done by an artist called Wyland http://www.wyland.com/, http://www.wyland.com/about/the_artist/1 , who specializes in environmentally conscious, marine life artwork. Of course, how environmentally conscious a huge mural ever can be is left to be discussed, but after all he didn't use spray-cans (as far as I know?), and it does make people look, think and enjoy.
What Wyland did was actually create 100 Whale Walls around the world, starting with the first, "Grey Whale with Calf", in Laguna Beach/CA in July 1981 and the 100th, "Hands Across the Ocean", in Beijing/China in June 2008. Cleveland's Whale Wall, "Song of the Whales", is No. 75 and was completed in October 1997. If you want to know if you also have a Whale Wall near where you stay, check here a complete list with photographs and see also a video about the various walls around the world http://www.wylandfoundation.org/community.php?subsection=whaling_walls
I thought this Whale Wall is the perfect backdrop for Pippa dreaming. I took over 70 pictures for this image, and that in the broiling summer sun, but at last I got it right (or so I hope). Here she is: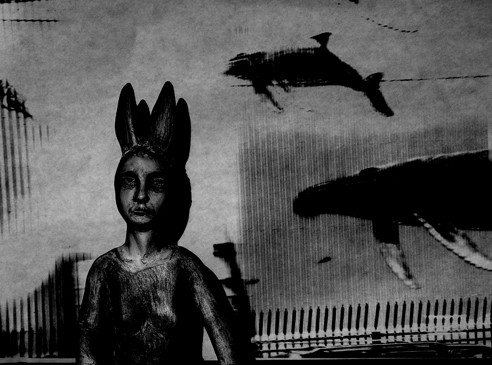 Josiane Keller "Pippa painted dreaming of the Ocean and Whales" (2012)
And now, completely exhausted but happy, I can go eat my dinner!
Talking about murals, look at this: remember Ericalilcane, who collaborates frequently with blu? Here some painted houses in Morocco, from a collaboration with the artist Andreco:
Ericailcane and Andreco, mural in Morocco (2012)
http://www.juxtapoz.com/Street-Art/erica-il-cane-a-andreco-in-morocco
By the way: the houses are from clay…
You can see a very funky video on Andreco's site about the making of this image: http://www.andreco.org/index.php?/installations/desert-paints/
Another incredible mural by Ericailcane would be, for instance, this one here for the FAME 2011 festival (check her site for more!):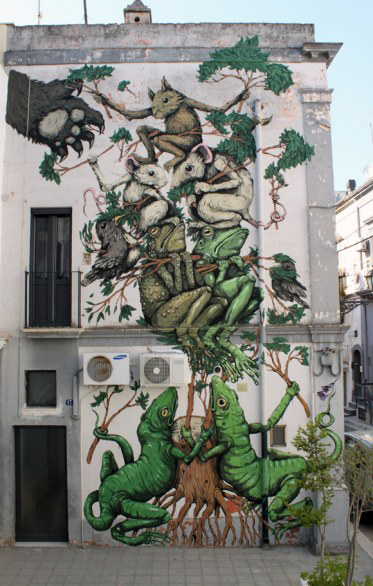 Ericailcane, mural for FAME festival 2011 (2011, hey!)
http://www.ericailcane.org/sito/?cat=5
2 Responses to ""Each reflection of myself echoes a different emotion at me – 20 Heroes from the City of Roses" – production diary (LXIII) – drawing time, Pippa"