July 9, 2012
Cassie's figure sits in the front of the horse. So her face expression is really important according to how I had the whole image planned. She's been giving me a bit of a hard time, I don't want her to look too cutsie, since she has the bunny ears that is a risk to go too far with that, and I also don't want her to just stare either. In a tiny face like these figures have to get some expression with a stubby oxide pen is not exactly easy. So far this is Cassi, with A.J.'s figure (not yet painted) sitting behind her: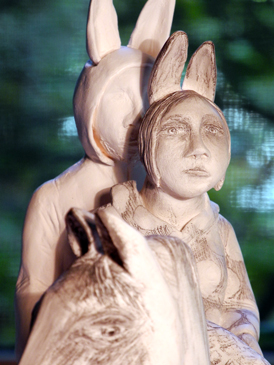 And this is all of them together (yep, I decided to indulge in photoshop again, that's me, folks! Gives me good ideas):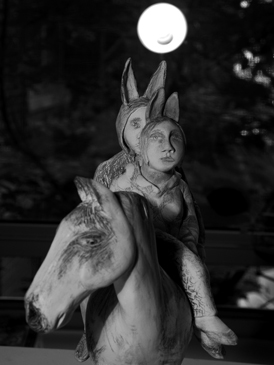 Of course that romantic night ride-look is just for now, they wanted a different background, in front of or in the central library in downtown Portland. Background painting anyways comes after I am done with all figures.