June 25, 2012
Today I heard my very good friend in Kyoto of 13 years, Kishimoto Tetsu, has died.
He was an entrepreneur, running successfully a number of businesses, like a company to refurnish shops and cafes "art Carpentry", many of his places were featured in various magazines and one bar in Teramachi won an interior design price. He co-owned and established a highly original and unconventional row (I can't use the word "chain", as they are all so individual!) of cafe-restaurants "Wood-Inn/ Sarasa", a T-Shirt company "Garden Graphic Design" and a specialist bicycle store "Natural Cycle". But more so he was an artist at heart and philosopher, and a father figure for all the young Kyoto misfits (inclusive one Austrian), seeing potential in every one and without making a big fuss helping in great ways when no-one else bothered to be around.
He was always open to ideas. Once he set me up with a group of fortune tellers for a palm reading job in a posh department store (interesting alone to see the various Japanese fortune telling techniques!) At some point I went through a bad break-up and was probably no fun to be around anyone, but he dragged me all over town, cheering me up and and introduced me to Chinese ink painting master Wang Shi Ming, who taught me Sumie-ink painting.
This is the BLOG of his bicycle shop, "Natural Cycle": http://www.naturalcycle.net/. In the front is the store with custom-ordered bicycles and the the back is the office and a small kitchen. Upstairs a sort of living room space with books and a collection of weird knick-knacks and a beautiful table. If you'd come to his shop he'd ask you if you were hungry and then he'd start cooking for you, curry, noodle, whatever. If you'd bring a person along he would cook for both of you. And he was also a musician. In the last years he started a band with his bicycle shop staff. If you check through the BLOG you can see him play percussion in the background on the post from May last year: http://blog.naturalcycle.net/?month=201105
As it is in such situations, I can't believe he is gone, as I visit Japan frequently, and always hang out in the same circles, but out of Japan I only have contact with a handful of friends. So I only found out now. The worst part is, I saw him last one year ago, shortly before the tsunami hit the West coast of Japan and the accident in Fukushima Daiichi atomic power plant. Everyone I knew at the time was incredibly nervous, stressed and aggressive shortly before this all happened. In hindsight I am thinking now, perhaps like animals we all felt something bad is about to happen, who knows. But in this really not good mood I saw him last time, and after the atomic accident I left Kyoto really hastily, since I was there with my young daughter, and the government was apparently making quite an effort camouflaging details of the extent of the danger. And so I had not even a chance to say "Good-Bye!" to him. I had been thinking about him a lot, and had planned to call him, but since he has always been there in the last decade of my life I thought next time I go I simply hook up with him. It never ever crossed my mind that he suddenly might just not be there any more.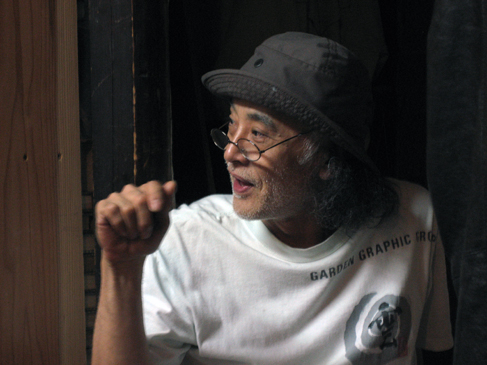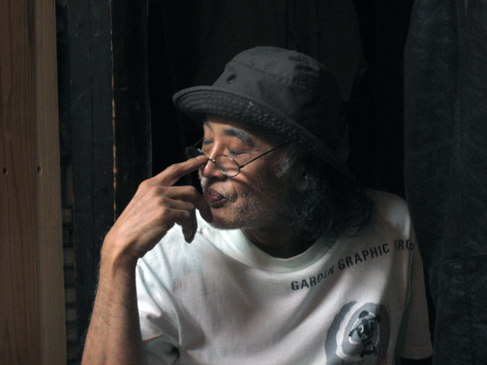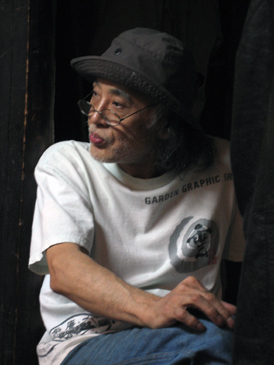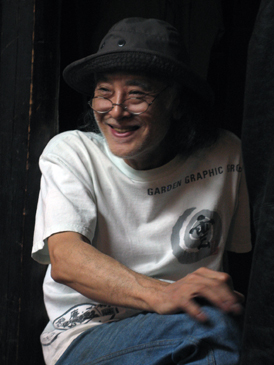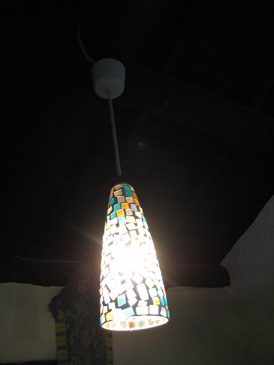 The funny bit is, I used to read his palm, and his life line was really short, and we were always laughing, and I said, "It is in your hands that you die at around 53, so you should be dead by now!" And he would always reply, "All the palm-readers say so, but here I am!" And I said, "Well if you squeeze your hand really tight, the line is a bit longer, so you have a chance!" But I guess he did not make it very long after all. He was 61 years old. It is a really huge blow.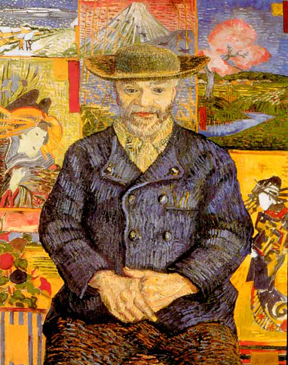 Vincent Van Gogh "Portrait of Pere Tanguy" (1887/88)
By now you know this, I came across, by chance, an image that parallels another image. This is a portrait of Julien Tanguy, who was Vincent Van Gogh's paint dealer in Paris, where Vincent had joined his brother Theo to try to push for his career as an artist.
http://en.wikipedia.org/wiki/Portrait_of_P%C3%A8re_Tanguy
Julien Tanguy was apparently this incredibly nice, intellectual art- and artist-lover, who would support his artist clients in a material as well as emotional sense more than than actually making business with them. He gave them stuff for free or swapped paint for paintings, and had a back-room set up as a little gallery, where he featured his "customer's" work; for this reason he had the name "Pere" ("Father") Tanguy in his circles.
Not only in his behavior he seems to resemble my friend Kishimoto, but also somehow in looks on this image, which is the last in a row of three portraits. It is now in the Musee Rodin in Paris, since Tanguy's daughter had sold this picture to August Rodin after her father's death http://www.musee-rodin.fr/en/collections/paintings/pere-tanguy. Behind Tanguy on the wall you can see a collection of Japanese woodblock prints, which he also dealt with and which famously made a huge impact on Vincent Van Gogh, who copied several of them. (The circle closes!)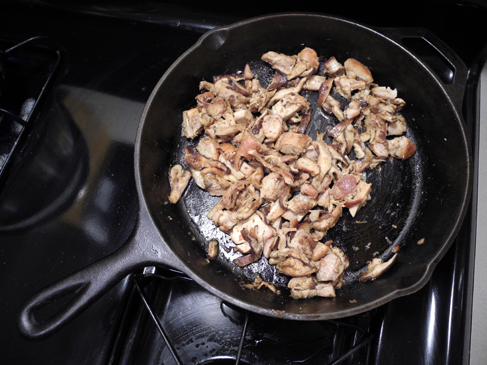 Tonight I cooked Japanese bachelor food Kishimoto-style, rice with edamame and shii-take and chicken in his honor. He was so proud of his cooking skills, and nothing would please him more than feeding hungry people. I honestly don't know what to do now, but then again, there is really nothing what I would be doing, just continuing with my stuff. I will try to get a chance to go to Kyoto soon. It teaches me once more never ever to take anything or anyone for granted.
I know, whilst I am feeling very low now, he would laugh about me and hug me and say, "You know, all life is all about change. Like the song, turn, turn, turn, turn!" and then he would cook me some udon with chicken and show me something beautiful, strange, art.
So I put up here the song by The Byrds, "Turn, turn, turn" for my dear, dear friend:
http://www.youtube.com/watch?v=V6jxxagVEO4.
The occasion he originally had told me this was actually after I was upset about an old friend of us, who increasingly had turned "Anti-Western". It is a concerning tendency I noticed in Kyoto over the recent years, making me upset. Call me an old hippie, but to, to show art can be a bridge, I also put up the link to the Japanese album:
http://www.youtube.com/watch?v=ZnwogiuhR9g, same song, you know!
2 Responses to "On Kishimoto Tetsu (1951- 2012)"