May 31, 2012
Another approach to rhythm is, see Eadweard Muybridge, breaking up the movement into single stages. Marcel Duchamp painted his famous "Nude Descending a Staircase, No 2″ in 1912, (if you were wondering: he did paint a No 1 one year earlier, but it is not as abstract and therefor not half as revolting. You can find it in the Philadelphia Museum of Art,
http://www.philamuseum.org/collections/permanent/51448.html ) No 2 was definitely more than progressive Paris at the time could handle and so he was promptly approached from all sides of the co-exhibiting artists at the "Salon des Independants", cubists, mind you, to withdraw the image. (So much for 'independence'!)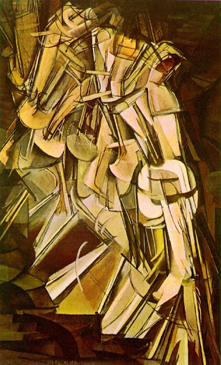 Marcel Duchamp "Nude Descending a Staircase, No 2″ (1912)
Arguments to do so went as far as the statement that 'nudes never descended stair cases' but typically 'reclined'. Duchamp swore to never ever try to be part of any group any more and instead go his own way, but later on in hindsight considered this the liberating turning point in his artistic career. We should be all glad, as otherwise there would have been no "Fountain" (1917), only 5 years later, once again, refused by the "Salon des Independants". One could get the impression he submitted to the Salon in order to really piss these fine people off (and they took on their attitude in order to really piss Duchamp off.) If so, that wouldn't have been all unreasonable of him, yet I think it simply worked out that way automatically, by default.
In reality the idea is as logical as the observation that the earth is rotating around the sun (and not the opposite), looking at Pre-Raphaelite Edward Burne-Jones' "The Golden Stairs" from 1880, http://en.wikipedia.org/wiki/Edward_Burne-Jones, painted 22 years earlier by an artist orientating himself on Renaissance and as such much less abstract, although either way very, very clever, and basically the very same thing: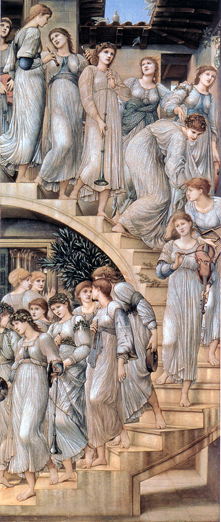 Edward Burne-Jones "The Golden Stairs" (1880)
In the end Duchamp became much more famous than the "Salon", so all is fine and well. He had more pranks up his sleeve, and consequently more people were repeatedly shocked, but you have to read up on those for yourself, as I have to go back to the topic of Ox and continue on exploring the sensation of drumming!
http://en.wikipedia.org/wiki/Marcel_Duchamp, or also: http://www.dadart.com/dadaism/dada/035a-duchamp-cage.html
From this image it is only a mini step to this one, Nataraja, the cosmic dance of Lord Shiva: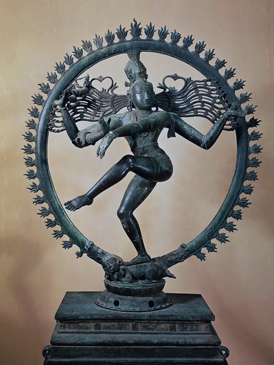 "Nataraja, Lord Shiva dancing", Chola dynasty (300s BC – 1297 AD), bronze, ~61in x 45in
This bronze statue is in the Rijksmuseum in Amsterdam, http://www.rijksmuseum.nl/aria/aria_assets/AK-MAK-187, representing the Hindu deity Shiva, who creates and also destroys the universe through his dance. By doing so he crushes Apasmara, the dwarf of man's ignorance under his feet. And this dance symbolizes the rhythm of the universe. (Don't overlook to click on this NEXT-button of this site, which will bring you to explanations of all the details of this sculpture!)
Having four arms = repetition = already a great idea to illustrate rhythm, so somehow I will use that idea for Ox.
I figured, since I have really too little professional knowledge on drumming I rather work with what it might mean to drum, as opposed to the technicalities of it. That way, hopefully, it will also be a more significant piece versus otherwise I risk ending up with a bunny-eared dollhouse figure on a drum set.
*For some reason the museum wanted to check more details about this sculpture by x-ray, and after various mishaps in the attempt doing so they ended up putting it on a truck, and the truck in an x-ray tunnel at customs in Rotterdam. The photo of that is so magnificent that despite the fact that it is tiny and not really about the subject matter I have to show it here: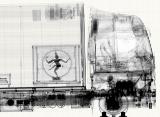 http://www.rijksmuseum.nl/nieuwsenagenda/dansende-shiva-doorgelicht?lang=en
I will contact the Rijksmuseum if they are willing to send me a bigger image to put up on my BLOG, but I am a bit weary, as the Vienna people wanted 68$ per photo for the dinosaur wrestling atlantes, plus 173$ per each year of online publication. I'm still negotiating, but if that's their best offer, then thank you, but no thank you! – It's not that I am printing postcards here, so that's a bit stiff price for free online advertisement! Dutch people are traditionally excellent businessmen, so I don't expect any better from this, apart from that apparently they allow publication of their images one time on non-commercial sites for free. So we'll see. For now the mini version has to do, sorry about that!
About Shiva's cosmic dance I found this: http://www.youtube.com/watch?v=BD3wWmThCxs
My friend from India said he cringes since it is "India's got talent", but I boldly show it anyways, I thought it was cool, so ignore the show biz stuff around it. I love especially the stairs! It is pretty clear what the judges said, isn't it?! There is also a Chinese group of disabled youth out there, who perform a similar image, "Thousand-hand Guan Yin". To be honest, their piece would be more impressive, as they have much more people and are professionals, not amateurs. However, unfortunately all online videos of them are incredibly tacky, talking "cringe", not because of the performance itself, but because they had to add plastic flowers and chi-chi background music to it, just in case we'd all be totally stone-insensitive and might not get it otherwise, and for that reason the Indian kids win my vote after all.
I'll put up the video of the Chinese kids as well, after all is is spectacular, you'll have to overlook the tear-squeezing sauce with it and simply look at the work: http://www.youtube.com/watch?v=Ov_iJQGq6DI&feature=related